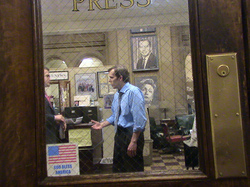 Hillary Clinton will appear on the Ellen DeGeneres show on September 4th.
Rudy Giuliani said today "We can end illegal immigration" and outlined his plans to issue tamper-proof ID cards for foreign workers and students.
News that Hillary Clinton's papers from her days in the White House wont' be made public until after the 2008 elections is no big deal, according to the Volokh Conspiracy.
The Financial Times says New York may launch "the first London-style congestion pricing plan in the US."
Aaron Naparstek has a bunch of congestion pricing numbers.
Brooke Astor's funeral is set for Friday.
In the comments section, SamMR comes out against congestion pricing.
Yoda does some fact-checking on a Weekly Standard piece about Eliot Spitzer and notes an "omission from the article of the fact that Siegel's son was a top official of Tom Suozzi's campaign."
GQ has a list of the 50 most powerful people.
Kos says he will keep his promise and attend the DLC conference next year.
Liz follows the trail of the often cited, but never written, opinion from the state Ethics Commission [added].
SpitzerFile.com has an unusually lengthy video of Eliot Spitzer's combative press conference with Fred Dicker [added]. 
And pictured above is a not-too recent photo of suspended gubernatorial aide Darren Dopp working the press room.