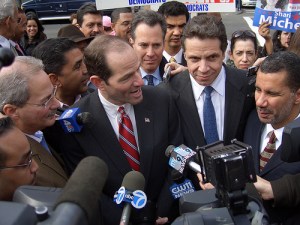 CNN picks up TPM's catch of Rudy Giuliani's very different statements about illegal immigration.
Dan Rather discusses Michael Bloomberg's political future [added].
Michigan's primary may move up to January 15.
Hillary's lead in Florida is due to the women.
Martha's Vineyard is expensive, and political.
Two more gun dealers agreed to settle a case brought against them by Michael Bloomberg.
Dan Janison is still waiting for his interview with Steve Mitnick.
Eliot Spitzer found banned toys in New York.
Spitzer's speech on humility is here.
And then, a breather.
Michael Caputo denies he's working for Roger Stone.
George Winner has more work for Andrew Cuomo.
Vito Fossella gets the fair and balanced treatment from Mole333.
Paul Francis is starting his work early.
And pictured above is a pre-election shot of Spitzer and Cuomo talking with reporters on the record.