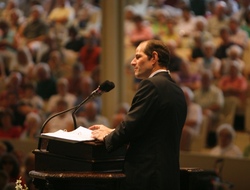 Bill Thompson found a way to prevent the MTA from hiking fares.
The third-ranking Republican in the City Council could move up a notch because of Dennis Gallagher's troubles.
In the comments section, Jerry Skurnik says that today's New York Times story about the private email accounts absolves Spitzer's people of any wrongdoing.
Larry Norden wants an end to secret voting in Albany.
The field of candidates in the Yonkers mayoral race is shrinking.
'Gays for Giuliani' is a new kind of attack ad, notes Andrew Sullivan.
Barack Obama is attacking what he says is the misreporting of his comments about Pakistan.
Liz has more details about the Roger Stone-Michael Caputo connection.
Kos has message for Harold Ford: "We helped build this majority. Not the DLC's 350 or so members."
A Politico reporter crosses over to the dark side.
And pictured above is Eliot Spitzer during his speech about humility in Western New York earlier today.