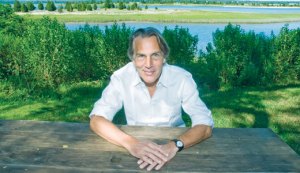 "I first met Dirk … in the late 70's. He was an imposing figure. Handsome, charismatic, a wonderful dresser—red suits, turquoise slippers. He cut quite a figure. He'd sort of explode into a room, usually with one of the top models of the moment on his arm. … Dirk introduced me to the scene around Saturday Night Live—which was the coolest place to be if you were young in New York in the late 70's. … There was this fantastic scene going on in New York around SNL, and the first of the clubs—Studio 54, then the Mudd Club and Danceteria and Area. It was more, well, not exactly innocent, but genuine. Hanging out at clubs wasn't a profession, and the media took months or years—not minutes—to discover it. I thought Dirk might be the one to chronicle that scene in fiction. As to why he didn't write fiction … for years—well, life got in the way."
—Grove/Atlantic Inc. editor Morgan Entrekin, when asked about Dirk Wittenborn
On a Sunday morning in July, Dirk Wittenborn was sitting in the backyard of his rented cottage in East Hampton, smoking. The 55-year-old novelist and screenwriter was wearing a polo shirt, baggy shorts and croc shoes and gazing at the sunlit channel of water that leads from Three Mile Harbor and empties into Gardiner's Bay, where people could be seen swimming and clamming and kayaking. His wife, Kirsten, was watching their 5-year-old daughter, Lilo, make a watercolor of a butterfly. An old Scotty dog was snoozing on the grass.
"When you're a teenager," Mr. Wittenborn said, "you can have a sexually charged love affair, and it can cast a shadow across your whole life, and you will compare every encounter to that. And because it's the first time and it's so new, there will be nothing quite as vivid as that. You'll burn down the barn, you'll climb out the window, you'll jump two stories to see the object of your desire. You believe you are different with that narcissism of youth, and you're thinking, 'I have discovered this wondrous drug and it's going to last forever.'"
He took a drag on his cigarette. He was talking about his novel Fierce People, which was made into a movie directed by Griffin Dunne and which is opening Sept. 7. The main character is a 16-year-old New York City kid named Finn, who hopes to spend the summer in Brazil with his father, whom he's never met. Instead he gets busted for scoring cocaine for his mother—a sexy massage therapist who gives a great foot rub—and the two of them end up living in a cottage on the estate of one of his mom's massage clients, a New Jersey WASP. The film stars Diane Lane and Donald Sutherland.
Mr. Wittenborn said the novel is "emotionally" autobiographical.
Lilo walked over and giggled. "Mommy and you and me are going to Grandma's house!" she said, referring to Mr. Wittenborn's sister, Gretchen, who is married to Jimmy Johnson, a painter, gentleman farmer and heir to the Johnson and Johnson pharmaceutical fortune. They own the cottage Mr. Wittenborn rents each summer; their own spread is 10 minutes away, with panoramic ocean views, next to the Maidstone Club. They are the parents of Jamie Johnson, director of the documentary Born Rich.
"Yeah, to aunt Gretchen's house later," he said. "But we're going to talk some more, so I'll see you in a bit. You guys are probably going to drive ahead."
"Drive ahead? Mommy!"
She trotted off and her Dad lit another smoke.
He got on the subject of the "Paris Hilton phenomenon" and the "calculation" of it. He said he remembered "a savage kind of wildness" to his own young years. "There were a lot more originals in the 70's," he said. "You saw them in New York, even in the fringe, like Rollerina—remember her? That transvestite who would roller skate? There were just these oddities. They had no sense of fame. When I first came to New York, money wasn't cool. Really. It didn't get you to the head of the line at the velvet rope. And now it's purchased, it's packaged …
"When I was a teenager," he continued, "our world was the future and it was a golden future—you didn't think AIDs was going to happen, sex was like shaking hands. And you never thought we'd be in another war like this. You never thought we would do this to ourselves again. Something was crumbling, and you thought it was going to crumble with a finality to it, and there was going to be a fresh start—and of course that's incredibly naïve. But that's what a whole generation thought. I think it was Albert Brooks who said, 'We had America by the throat in the 70's and we let it go,' you know, after Watergate, after Vietnam—we got rid of a president, for God's sake! Now you go protest, you go to an antiwar march and everyone's like me, no young people, everyone's a fossil."
Last year he and director Neil Burger (The Illusionist) co-wrote a script about soldiers in Iraq who go on convalescence leave and end up in Las Vegas; the resulting film, The Return, which stars Tim Robbins and Rachel McAdams, just finished shooting. Mr. Wittenborn said he was taking his recent success in stride.
"I'm over 50, you know," he said. "You wonder where everyone over 50 goes in Hollywood, or over 40. Do they take them into the desert and put them into a pit, into a sulfur mine? Where do they all go?"
Lilo came over to say goodbye.
"Bye dahling, it's so sad," he said, squeezing her tight.
"No, it's not!"
"Okay. Kiss."
"Sometimes I give mommy a kiss on the eyes!"