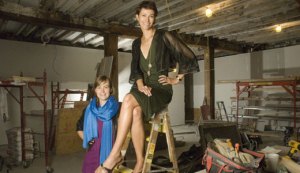 "The space is so beautiful and has, kind of, not been touched in about a hundred years," crooned David Maupin, co-owner of Lehmann Maupin Gallery, last Friday morning in his office on West 26th Street. He was referring to 201 Chrystie Street, a two-story building lying between Stanton and Rivington Streets, the former site of the East Side Glass Company. On Aug. 3, Lehmann Maupin officially announced that it is converting this building, currently undergoing restoration, into a second locus of operations; it is slated to open in early November.
Counted among the city's most prominent art dealers, with a world-class stable that includes pyschodramatic British sensation Tracey Emin, Lehmann Maupin started out in the mid-90's at a location in SoHo, later relocating to a loft space on 26th Street designed by Rem Koolhaas. And now they are one of a spate of galleries erecting outposts on or near the Bowery.
"The space is a lot like a classic SoHo space, without columns," said Mr. Maupin, elegant down to his tan tasseled loafers. "It reminds us a lot of our first gallery on Greene Street—it kind of has those proportions. So we're kind of excited about that." He said they had taken a 10-year lease with an option to buy. "So, it's a commitment, it's a real commitment. It's not just about art; it's about, kind of like, energy? I think that there are great restaurants and I think there are really great small businesses, whether it's boutiques or bars or, you know, clubs, nightclubs. Our building is very much like The Box"—the dinner-theatre nightspot co-owned by musical-theater scion Simon Hammerstein—"which is about four doors down. You know what I mean?"
The daisy chain of gallery openings will stretch through the fall, culminating on Dec. 1 with the inauguration of The New Museum of Contemporary Art's spanking new edifice on Bowery at Prince, punctuated by a huge sculpture exhibition called "Unmonumental."
The artistic landscape of the Bowery now appears to be under swift and purposeful redesign. But this is merely the endpoint of years of rumbling, prospecting and speculating about which galleries would stake out what territory in the area, presumably enticed by the New Museum's decision to build there. The museum's executive director, Lisa Phillips, compared her institution's galvanizing effect to Dia's arrival in Chelsea in 1987. "It was kind of a wide, open frontier for adventurous people to pioneer," she said. "And they did."
Unconfirmed reports had it that powerhouses Gagosian (which has two locations in Chelsea, one on Madison Avenue, two in London and one in Beverly Hills) and David Zwirner (with three exhibition spaces in Chelsea plus an affiliate entity, Zwirner & Wirth, on East 69th Street) were jangling keys to property in the area. "That's not true," Zwirner's public relations manager, Julia Joern, wrote in an e-mail on Monday, Aug. 13. "Strange rumor we've been asked about for about two years." A representative of the Gagosian Gallery, meanwhile, simply said: "That kind of information is unavailable at this time."
The owner of Deitch Projects, located on 76 Grand Street, said it had considered launching a satellite on or close to the Bowery, but didn't follow up. "We were looking in the area, but we found something that we like much better," Jeffrey Deitch said by phone. "We've decided to do something completely different, something dramatic," he said, declining to be more specific but adding that he'll be pleased to welcome back to the neighborhood galleries that had migrated from SoHo to Chelsea at the turn of the century.
But Dealer Jonas Gat's eponymous gallery spent 12 years on Madison at 82nd Street, one block from the Met, and on Sept. 20 will reopen at 195 Bowery, one block from the New Museum. "I wanted to be next to it," said Mr. Gat, who found out about the museum's plans about two years. "I got a place the next day," he said. "I was the first to make a move, I was told." The Gat gallery's inaugural exhibition is a survey of the work of Judit Reigl, a major figure of post-World War II art who, Mr. Gat says, is little known in the U.S. but who was a peer of de Kooning and the New York School.
Meanwhile, there's a big, black dot on the visitors' map on the Web site of Smith-Stewart—the gallery owned by former P.S. 1 curator Amy Smith-Stewart, already open for business at 53 Stanton—that illustrates its direct lateral proximity to the New Museum. "The New Museum is obviously the attraction," said Ms. Smith-Stewart. "It will definitely be hosting gallery tours around the neighborhood."
Having spent the past decade curating at institutions, Ms. Smith-Stewart, 33, is just getting her feet wet as a dealer. "I signed the lease, and a week-and-a-half later I opened my space," she said, laughing. "I changed my hours the first month like three times. It was very hard for me to get a gauge of what other people were doing in the neighborhood. Now galleries are trying to reach out and say, 'O.K., let's try to do our openings around the same night,' that sort of thing."