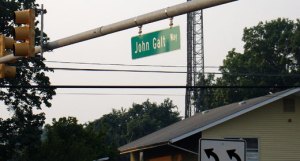 Almost immediately following the fire at the Deutsche Bank building at Ground Zero in August that left two firefighters dead, a harsh light began to shine on a Bronx-based subcontractor with no experience in demolition work, repeated safety violations, hints of ties to the mafia, and an unusual-yet-familiar name: the John Galt Corp.
John Galt, as enthusiasts know, is not a real person, but the engineer-hero of Ayn Rand's 1957 novel, "Atlas Shrugged," a 1,168-page tome detailing a society that crumbles after its artists, scientists and businessmen go on strike. The novel lectures against mediocrity and for the importance of reason, self-interest and laissez-faire capitalism. Its first sentence asks: "Who is John Galt?"
Since its publication, the book has sold six million copies and has spawned organizations devoted to her philosophy, known as Objectivism. Her work, however, is routinely savaged by literary critics.
But the exposure of John Galt, hapless demolition company with literary pretensions, has temporarily cast a spotlight on a little-known sub-culture of Rand followers who have, over the years, enthusiastically named all sorts of things—street signs and companies and blog sites—after the fictional character.
A John Galt Way can be found in Florence Township, NJ. There's a John Galt Mortgage and Title in Ft. Lauderdale. John Galt Solutions in Chicago has customers like Volkswagen and Loreal. Omaha Steaks—the direct mail meat company—resides on John Galt Blvd. in Omaha, Nebraska. A check of listings around the country finds at least a dozen companies named "John Galt"—from binding services to small media companies.
So how are the sons and daughters of Galt reacting to their newfound notoriety?
John Galt Films, located on Greenwich St. in Manhattan, deals in production for commercial television. A man who only gave his name as Dov answered the phone and acknowledged that the company was named for the book's main character. He said that the owner was probably not interested in talking.
Much more chatty was Annemarie Omrod, President and CEO of John Galt Solutions, a Chicago company of 33 employees that provides, as its web site (johngalt.com) informs: "affordable forecasting and inventory management solutions for the consumer-driven supply chain." She said that she and her husband Kai Trepte, who co-founded the company with her, were reading the novel at the time and became inspired.
Ms. Omrod has spent the last several weeks explaining to friends and clients that no, she is not related to the demolition company from the Bronx. She has fielded calls from news organizations across the country, and explained to them that they deal in supply forecasting, not asbestos removal. Last Friday, she sent out a series of letters to customers in New York advising them of the non-relationship.
Ms. Omrod, who grew up in New Jersey and vacations at the shore, said she took ribbing all last week there: "They said, 'Oh you're John Galt Corp?' I said, 'Do I look like a construction company?'"
Still, the name spawns confusion. For instance, Mr. Trepte, who is vice president of sales and service at the company, says that in meeting with customers he has sometimes gotten this response: "Where is John Galt? Why didn't you bring him along? Aren't we important enough?"
On John Galt Way in Florence Twp, there's a Home Depot. Rick Cureton, president of the construction company that is developing what will eventually be 8 million square feet of distribution and retail, said that the street was named in 1999 by the firm's founder, a huge Rand fan. But as for Mr. Cureton, he's had difficulty with the book.
"I tried three times," he said. "And I get through about 100 pages and I can't take it anymore. It's about 1200 pages. I just can't do it." He said that most people have no clue about the street's inspiration. "I ask them, 'Do you know what that name represents?' And most people don't really know. Our society is not that well-read."
Interestingly, the flurry of tributes to Galt and Rand is not necessarily something the author ever wanted.
"While Ayn Rand was alive she opposed it and brought suits against it," recalled Allan Gotthelf, head of the Ayn Rand Society and visiting professor of philosophy at the University of Pittsburgh. He knew Rand for 20 years and is the author of "On Ayn Rand."
When he heard the news about the fire at Deutsche Bank and the company behind it, he had conflicting emotions: amusement at the recognition and irritation that someone would use the name for such a shoddy business concern. "Typically, when you come across this," he said, "is they're trying to attract business on the grounds of attaching themselves to the name. It's not a substitute for having a quality record."
Rand's work and John Galt will probably endure for some time to come. This year marks the 50th anniversary of the publication of "Atlas Shrugged," and a convention in Washington, D.C. in October celebrating the milestone will feature speakers John Stossel of ABC's 20/20 and Charles Murray, co-author of "The Bell Curve." And after many years of complications and previous objections from Ms. Rand—who died in 1982—a filmed version of the novel starring Angelina Jolie and produced by Lions Gate Entertainment—is in development.
As Cathy Young, a contributing editor to the libertarian magazine Reason, wrote in that publication in 2005: "Followers of her philosophy, Objectivism, regard her as the greatest thinker to have graced this earth since Aristotle and the greatest writer of all time. Mainstream intellectuals tend to dismiss her as a writer of glorified pulp fiction and a pseudo-philosophical quack with an appeal for impressionable teens."
As far as the Galt demolition company, a woman who answered a phone at its Bronx-based headquarters said she had no idea about the origin of the name and was not familiar with "Atlas Shrugged," but agreed to leave a message. It was not returned. To this date, no one from the company has definitively confirmed whether the company is named for Rand's character.
And we may never know: There are 51 home listings for "John Galt" in the United States. One is in Brooklyn.