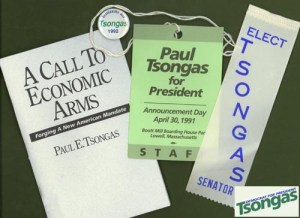 The next major event on the U.S. political calendar is not in Iowa, New Hampshire or even Florida. It's actually next week in the Merrimack Valley of Massachusetts, where a the lone open House seat in the country – vacated by six-term Rep. Marty Meehan's May resignation – will essentially be filled in a Democratic primary. (The primary winner will be the overwhelming favorite against the G.O.P. nominee in what is a solidly Democratic district.)
What makes the contest noteworthy outside of Massachusetts is the identity of the Democratic front-runner: Niki Tsongas, the wife of the late Paul E. Tsongas, the former Massachusetts Senator who very nearly knocked off Bill Clinton in the 1992 Democratic primaries. A decade after his death, Paul Tsongas remains a beloved figure in the district, which is centered in Lowell, the old mill city that he never left (and where a downtown arena now bears his name). That alone figures to be enough to lift Niki Tsongas past her four opponents in next Tuesday's primary.
Niki Tsongas' looming elevation to Congress seems like a good excuse to indulge in one of my favorite past-times – the political what if game.
Think back to the 1992 presidential primaries, when every big name Democrat backed off, convinced that George H.W. Bush's Persian Gulf triumph would render him invincible in the fall. That left a decidedly B-list cast of Democratic aspirants: Clinton, Tsongas, Jerry Brown, Bob Kerrey, Tom Harkin and (for a minute) Doug Wilder. The early thinking had Clinton and Kerrey as the front-runner. Tsongas was ignored.
But his message took hold in New Hampshire, whose lead-off primary was even more important than usual, with Iowa – Harkin's home state – going uncontested. A string of Clinton scandals in January 1992 – Gennifer Flowers and his Vietnam draft maneuvering, basically – sent the Arkansas Governor's poll numbers plummeting, and Tsongas surged to the lead in New Hampshire. On primary day, Tsongas won by 7 points. Kerrey was essentially flushed from the race. Clinton, though, was saved by the craftiness of his campaign, which sold him to the media as "the comeback kid," based on his less-awful-than-expected 26 percent showing in New Hampshire.
The race then went south, where polls showed Tsongas faring surprisingly well in Georgia and Florida. The Clinton campaign, though, launched a slick, well-funded stream of negative ads against Tsongas, portraying him as a cold-hearted foe of Social Security, Medicare, and Israel. It was enough to hand Clinton a seemingly decisive series of Super Tuesday victories, which he followed up with wins in Illinois and Michigan the next week – which prompted Tsongas to suspend his campaign.
Then Clinton inexplicably lost the Connecticut primary to Jerry Brown, one of the biggest upsets in the history of presidential primaries. National Democratic leaders, already worried about Clinton's "character" issues, panicked and began making noise about recruiting a last-minute alternative to Clinton. New York was next on the calendar and Tsongas made it clear that he would re-enter the race if Clinton lost to Brown again. That's as far as it went, though: Clinton survived New York and the nomination was his.
But what if he'd been tripped up by Brown again? Or what if he'd lost New Hampshire even more decisively – finishing behind Bob Kerrey, say? A change of just a few thousands New Hampshire votes could have derailed Clinton – and made Tsongas the nominee.
Would the country now know Niki Tsongas as a First Lady? And, instead of the headlines she receives every day, would we now be reading after-thought stories about how Hillary Clinton, the wife of a former presidential candidate, is running for Congress in Arkansas?