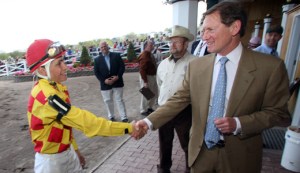 If Excelsior Racing doesn't win a multibillion dollar concession from the state to run the gambling operations at New York's major horse-racing venues, it won't be for lack of political connections.
Last year, the founder and major stakeholder in the recently formed gambling syndicate, Richard Fields, had then-Attorney General Eliot Spitzer out to his Wyoming ranch for a fund-raiser, and gave $200,000 to his Mr. Spitzer's campaign account. Mr. Fields flew former State Senate Minority Leader (and now Mr. Spitzer's Lt. Governor) David Paterson to Albany on his private jet to attend a speech for the shockingly low price of $176. And by that time, Mr. Fields had assembled a group to bid on the racing contract that included a number of prominent New York Democrats with ties to Mr. Spitzer.
When Mr. Spitzer finally did get into office, it seemed only a matter of time before the contract was awarded to Excelsior and to Mr. Fields—a colorful 61-year-old real estate developer and ex-protégé of Donald Trump.
But now, just as the governor has finally set a September deadline for recommending a plan to the legislature, Mr. Spitzer has run into trouble for a completely unrelated issue involving his aides' use of state police to dig up dirt on a political opponent.
For Excelsior, things are looking a little more complicated.
"Spitzer can't possibly come into office speaking about doing this new way of politics in Albany and then pick the bidder that has Richard Fields—his main guy," said Alan Mann, who runs the thoroughbred racing blog "Left at the Gate" and has been following the industry for nearly 35 years. "There are political entanglements."
The license for the current franchise operator expires at the end of December.
Other bidders include the New York Racing Association, a nonprofit group running the current franchise, Empire Racing, a group of private investors which has emphasized its roots to the upstate community around one race track in the district of Senate Majority Leader Joe Bruno, and Capital Play, which has ties to the Mohegan Tribal Gaming Authority.
On July 20, shortly before news of the state police scandal broke, Mr. Spitzer announced he was finally setting a date to make a final recommendation to the Legislature: September 4, one day after the current racing season ends. He also announced the idea, for the first time, of splitting the franchise in two: one group to run the horse-racing operation and another to run the traditional betting and the lucrative video lottery terminals.
The first part is thought to be a money-losing venture, ideal for a nonprofit group like the New York Racing Association, which currently operates the entire franchise. The second part—the gambling—is a virtual A.T.M. for whoever gets it.
Excelsior, political connections aside, is set up perfectly to win. Even before Mr. Spitzer took office, Excelsior won the recommendation, albeit by a narrow margin, of Mr. Pataki's nine-member Ad-Hoc Committee on the Future of Racing. The firm is well-cushioned financially thanks to its most recent investor, billionaire gambling magnate Steve Wynn. And it put together what was arguably the most attractive pitch to the state, promising to revolutionize the New York's moribund racing industry.
It is also not a coincidence that Excelsior originally proposed the idea, endorsed recently by the governor, to split the two concessions.
Still, the process hasn't gone smoothly.
The problems date back to last July—about a month after Mr. Fields incorporated Excelsior Racing, LLC—when Mr. Spitzer traveled to Mr. Fields' ranch in Jackson, Wyoming, to make an appearance, alongside Governor Bill Richardson, before about 100 local Democrats about his vision of New York. (Mr. Spitzer, who wore cowboy boots, according to several attendees interviewed by The Observer.)
Mr. Spitzer's presence at the fund-raiser wasn't reported by the New York media. But what did become public shortly thereafter—thanks to big investigative pieces in the Daily News and the Times Union—was that Mr. Fields had previously provided Mr. Spitzer with cheap, private flights to other events out west, and had, through a series of hard-to-trace limited liability corporations, deposited into Mr. Spitzer's political campaign committee the sum of $200,000.
(When the contributions were reported in the Daily News, Howard Wolfson—then a paid spokesman for Mr. Fields—said that Mr. Spitzer had gotten the donations "because he will be a great governor.")