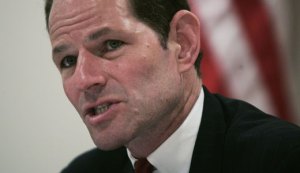 Eliot Spitzer is taking a break from unmanaged media appearances.
The last time he made a public appearance in Albany, in the Red Room of the Capitol on Thursday, July 26, the governor was all but shouted down by reporters attempting to ask him about the small matter of his aides using state police to compile damaging information on Senate Majority Leader Joe Bruno.
Thereafter, he was made available to the media, but only in carefully managed ways.
The next day, Mr. Spitzer sat for what was presumably supposed to be a confessional interview with The New York Times—it wasn't, quite—and had no public appearances.
Over the weekend, Mr. Spitzer made no appearances and was not available at any point for comment to the media, according to his spokeswoman, Christine Anderson.
On Monday, July 30, Mr. Spitzer made no public appearances.
Then, on July 31, he resurfaced for a string of public events and an editorial board meeting, but in Syracuse—away from the prying eyes (and assertive voices) of most of the state's political press.
And on August 1, the plan is for more of the same; the governor will go to Rochester for another ed board meeting and public event.
With the State Legislature out of session, and the long hot days of summer before him, some longtime political observers see the makings of a plan to ease the state's press corps' attention away from The Bruno Affair and onto the Spitzer administration's legislative agenda.
"The problem really is, it's become such a circus that I think he's got to move on to other things," said veteran consultant George Arzt. "I think he's got to go out and go tend to other stories that matter.
"They've got to make news in other places," he said, adding, "It's better to go around the state, so they can see you. People want to see a governor that is leading. They don't mind if the governor's bleeding a little. It makes you human. It makes people sympathetic towards you."
But the strategy—to the extent that it is one—can only do so much to curtail the story.
"Because it's summertime, there's not a lot else happening," said Democratic consultant Evan Stavisky. "The media beast still needs to be fed. The question is who is doing the feeding and who is being fed to reporters."
Mr. Arzt, a former City Hall reporter, recalled, "We used to say in Room 9, 'Feed me. Feed me.' And I think as you got into the hot days of August and September, reporters want other things to write about."
Christine Anderson, a spokeswoman for Mr. Spitzer, said that the goal of the whole exercise was simply "to make sure we continue with the business of governing, and part of that is being in the local community."
She noted that Mr. Spitzer has had public appearance almost every day since the initial report was made public on Monday. "From my perspective, it's an easier thing to just go into a bunker," she said. "But that's not what we're doing."