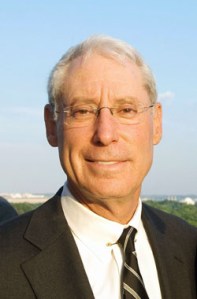 Several years ago, when he was the chairman of Court TV, Henry Schleiff approached one of his bosses, Time Warner CEO Dick Parsons, with an idea for a show.
"He was going to have Jeffrey Dahmer on there," Mr. Parsons recalled recently. "It was kind of a reality-based Court TV show with these atrocious acts. I said, 'Henry, that's a bridge too far. Nobody is going to want to watch a show about another guy making stew out of people.'"
These days, the only disembodied hearts Mr. Schleiff ponders are the warm, fuzzy kind. In October of last year, the longtime television executive left Court TV to revive the financial prospects of Crown Media Holdings—a debt-laden company consisting primarily of the Hallmark Channel, the homely television sibling of Hallmark Cards. With a mix of syndicated programs (Murder, She Wrote, Little House on the Prairie, Matlock) and original movies, it's a television universe in which well-adjusted kids kick cartwheels across the screen, the good guys hunt and fish, and moms bake cake. On the Hallmark channel, a happy ending is still just a happy ending.
On a recent Wednesday afternoon, Mr. Schleiff sat in his office overlooking West 53rd Street and discussed his role in shaping the future of feel-good television. It's a small corner of the cable landscape. But recently, the friendlier-to-family channels, including Hallmark, Disney, Discovery and Nickelodeon, have been trying to grow a bigger presence in New York and Washington by publicly purging their shows of perceived sins. First to go: cigarettes and junk food.
Some 25 years into his television career, after successful stints at Viacom, HBO and Court TV, Mr. Schleiff has repositioned himself as part of this outspoken family-values pack. But can a Manhattan media insider who seems to be carrying a torch for Middle American values (so long Jeffrey Dahmer!) save a media outlet catering to the flyover states?
Mr. Schleiff leaned forward on his desk and flashed his gleaming white chompers. He was wearing a well-pressed suit and a polished tie pin. With his silver hair and mischievous smile, he called to mind a Father of the Bride-era Steve Martin, playing a buttoned-down executive on the eve of hatching a devil-may-care plan.
Behind him, a jumbo novelty gavel rested in a corner, a memento from his former job bringing the likes of Johnnie Cochran and Nancy Grace to the masses. Ahead of him, he saw a series of white picket fences stretching into the future.
"There are not a lot of movies that open with a white picket fence and say, 'This is going to take you up and down, and at the end, get your box of Kleenex,'" said Mr. Schleiff. "There's a lot more stuff that opens with a dead body, blood coming out of its ear and a large maggot."
All the carnage, said Mr. Schleiff, helps to drive older viewers into Hallmark's warm embrace. "From that audience, you still hear one thing on Saturday night—'Hey Martha, there's nothing on television tonight,'" said Mr. Schleiff. "As a result of that, we may not be the first network that anyone tunes into, we may be the No. 1 default network."
"It may not be the people in Michael's restaurant here in New York who are watching it," said Mr. Schleiff. "But I go to a suburb of Milwaukee, and I'm a rock star if you say Hallmark Channel."