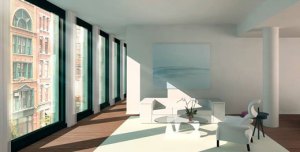 It takes a special kind of gentleman to buy a multimillion-dollar apartment, sight unseen, across the country. But Jeffrey Hyland, who is Rick (father of Paris) Hilton's partner at Beverly Hills real estate brokerage Hilton & Hyland, signed a contract last year for a sixth-floor place at Ian Schrager's brand-new 40 Bond condo without visiting.
"I'm embarrassed to say, I didn't even know where Bond Street was," Mr. Hyland said about the cobblestone stretch between Broadway and Bowery.
According to public deed transfers, he and his wife Lori, an abstract painter, closed late last month on their two-bedroom condo there for $3.5 million. They bought from Aby Rosen—who owns the Seagram Building and looks like a kempt Christopher Hitchens—as well as from his development partner Mr. Schrager.
"Forty Bond Street will sit in our living room, my wife and I joke," Mr. Hyland said, comparing the 1,382-square-foot apartment to his 9,000-square-foot Beverley Hills house. He also owns a 70-foot yacht.
The building—the first American residential project for Pritzker Prize–winning Swiss designers Herzog & de Meuron—has a green, glimmering glass facade. It's suave and transcendently shiny, plus there are 22-foot-high (and 142-foot-long) aluminum gates designed to look like graffiti.
The Hylands' apartment has custom-designed floor-to-ceiling windows, high gloss kitchen cabinetry and double-swing glass shower doors, plus the Herzog & de Meuron-made "NYC Graffiti pattern" on shower floors. The Swiss keep it real like that.
Mr. Hyland almost missed out on 40 Bond: "We had an appointment at 1010 Fifth Avenue, and Dennis said"—that's Dennis Mangone, a Corcoran Group senior vice president—"'You got to move downtown.'"
"We took his word," the Californian said, "and we bought it." But Mr. Hyland is a smart real estate man: He sold Paul Allen a 122-acre spread behind the Beverly Hills Hotel, and sold a house to Barbara and Frank Sinatra, then brokered it after the singer's death.
But is he acquainted with his partner Rick's daughters, Nicky and Paris Hilton? "Yes," he said, "of course."