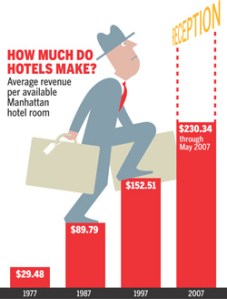 The next hotel bill you pay in Manhattan will likely be broken down thusly: 40 percent will go toward paying the hotel's employees; 50 percent will go toward operating costs like linens, electricity and advertising; and the 10 percent left over will be profit for the hotel owner.
Or at least some of that 10 percent will. Capital costs for maintaining and improving the hotel building will bite a chunk of the profit.
"That capital cost in New York is big," said John A. Fox, a senior vice president at PKF Consulting, a firm that tracks hotel data. "It could easily be $1 million a room for a large, high-scale hotel."
So don't be too envious of the Manhattan hotelier. While the industry remains firmly in a golden age of high occupancy and high rates, that age does not shine as lustrously as many suspect. In fact, the only thing that makes the Manhattan hotel market seem particularly expensive now is just that—perception.
For one thing, the city isn't all that expensive to visit compared to other world cities like Tokyo, Paris and London. The average hotel rooms in Paris go for about 207 euros nightly (about $283), according to consultancy TRI Hospitality. In London, rooms average around 112 British pounds (about $228). In Manhattan, it's about $270.
And the dollar right now is weak, especially against the euro and the British pound. (The buck's about 1 to 1 against the Canadian dollar right now!) Travel to New York for the sorts of Europeans who would travel here is not that expensive; the flight over might be, but a $300-a-night hotel room runs about 200 euros or 150 pounds, which might explain why visits from Brits were up 4 percent from 2005 through 2006, according to the city. (The number of international visitors was up overall year to year.)
Also, Manhattan's hotels have always tilted to the rather expensive side, making the recent spate of rate risings routine rather than shocking. Since the late 1960's, with few exceptions, the average room rate for a Manhattan hotel has increased year over year, every year, according to PKF Consulting. The steepest drop in the past 40 years was just after Sept. 11, 2001.
Take this story lead from The New York Times: "The seemingly unending boom in the hotel business in New York continued unabated during the first half of this year. …" It's from July 30, 2000; but it could just as well be from yesterday.
The perception of expensiveness springs not so much from market forces—remember, again, hotels have nearly always been pricey in this town—but from the barreling reality that is New York real estate in all its variants.
The Manhattan housing sales market hit its record-making stride in the waning days of 2003, and by 2005 was—as they often say—quite hot. The average apartment sales price topped $1 million and never looked back; and the price per square foot reached $1,000.
The office market's success began to unfold in 2005 in so many different ways. The vacancy rate dropped further into single digits; downtown Manhattan's rate specifically descended from post-Sept. 11 highs; office rents reached records; and the building-sales market hit an all-time high in 2006 (which will likely be eclipsed in 2007).