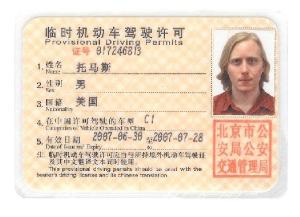 BEIJING—Before I became a mascot for China's new spirit of cooperation with journalists, I first had to get the People's Republic of China to certify that I was legally a journalist.
Resolving that issue in China requires wrestling with questions of being and reality—including, in my case, an argument with a uniformed officer of the Beijing Public Security Bureau about whether or not my pen (my pen, mind you) could be called a "pen."
It was not a particularly cooperative process. I arrived in Beijing in March with a slip of paper stapled inside my passport saying, "The holder of this visa is not allowed to engage in news report activities in China."
I had been carrying that slip back and forth from New York since 2004, through a dozen different tourist visas. To get a Chinese tourist visa, you have to tell the Chinese consulate what you do for a living. If what you do for a living is reporting or editing, you have to hand over a letter from your boss, on company letterhead, saying you won't do it.
So I handed over those letters, over and over again, each time requiring a trip out to the Chinese consulate on 12th Avenue, which is essentially in Weehawken. Some travelers get around the rule by writing on the application that they teach English or do consulting, something nonthreatening. Because I planned to get a journalist's visa someday, I stuck to the procedure. I was a tourist. Any research or writing I might happen to do would not rise to the level of "news report activities."
But this past December, I set out to become an official journalist, by China's definition. Americans, with the blog age in flower, are eager to debate who is or isn't a journalist: Who gets to use shield laws? Who gets to go to press conferences? Are there certain minimum standards of professionalism, epistemology, circulation? The presumption of freedom lasts till the grand jury comes calling, or till you try to get a press pass for a weekly newspaper to write about a Yankees game. Then, conflicting judgments come into play.
China has assigned those decisions to the government. I was about to say it had "centralized" those decisions, but total authority is not the same thing as central authority. Americans tend to picture China as being ruled from the top down, but the system is more a matter of interlaced, layered and competing bureaucracies. To cover the news in any particular city, for one example, reporters were traditionally required to get an invitation from local officials. No invitation, no right to report–in American-media terms, it's as if publicists had the force of law on their side.
Late last year, though, China announced that it would be suspending those travel restrictions on foreign journalists on Jan. 1, as part of a broad set of changes in advance of the 2008 Beijing Olympics. The press-visa rules were to be loosened as well.
The timing was perfect: I wanted a visa to report on Beijing's Olympic preparations. I planned to spend as much time here as possible before the Games, watching the remaking—on a rapid schedule and a monumental scale—of an ancient capital into an international showpiece.
I explained all this to the consular press staff. They said they weren't sure if I could get a long-term visa or not. Though the new free-press rules were less than a month away, no one had explained the specifics to them yet. They told me to put together an application, describing the product and my journalistic credentials, and turn it in after New Years. I waited for January, submitted the papers, and waited some more. Eventually, the consulate reported back: I should apply directly to the Beijing Olympic committee. I faxed the paperwork to Beijing. The Olympic committee wrote back: I should apply to the consulate.
Throughout the run-up to the Olympics, protesters around the world have been denouncing the Chinese government's repression of journalists. This month, as the Olympic countdown reached the one-year mark, the Committee to Protect Journalists held a press conference and Reporters Without Borders unfurled a protest banner on Tiananmen Square, calling attention to the detention, harassment and other abuse that reporters regularly encounter here. The Reporters Without Borders contingent was rounded up by the cops and hustled to the airport, proving everyone's point.
But what happens when a journalist tries to comply with the Chinese authorities, instead? I submitted my application to the consulate again. Every week or so, I called in for an update. They had forwarded it to the Foreign Ministry, which would review it and refer it to the Olympic committee. The Olympic committee was reviewing it, and was preparing to refer it to the Foreign Ministry. The Foreign Ministry was …