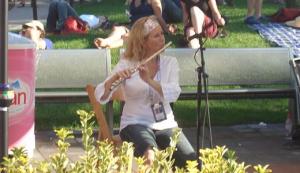 I just took a walk on the grounds and there seems to be one widespread complaint: the music.
On the concourse, outside Court 10, there's a flutist who seems to have involved herself with some of the matches.
Said one spectator: "During both the Donald Young match and the Gasquet match there was dead silence during these really dramatic points and suddenly you'd hear 'Lucy in the Sky with Diamonds' or 'Sound of Silence' in the background."
That's Jazz Flute, ladies and gentlemen!
Also, there's an electric violinist playing outside Arthur Ashe Stadium whose version of Nelly's "Hot in Herre" harassed one spectator during the John Isner match at nearby Louis Armstrong Stadium.
I went to go check this out for myself and, sure enough, at least 10 minutes after the spectator's complaint the electric violinist — known as
"Lorenzo La Roc" — had reached the chorus: "It's gettin' hot in here, so take off all your clothes …"