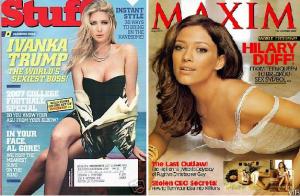 Yesterday, Alpha Media Group–the name for the investors backed by Quadrangle Capital Partners who bought Maxim, Blender and Stuff from Dennis Publishing yesterday for more than $240 million–announced plans to fold Stuff, the shopping-centered T&A men's magazine, and resurrect it as a regular section in its lad mag, Maxim.
Maxim and Blender will be the chief beneficiaries of the new owners' money and time from now on, with plans to increase the rate-base for Blender, the music and lifestyle magazine, to 1 million by January 2009.
Maxim will get "Stuff for Men" as a section of the magazine, now that the title no longer has to compete with FHM magazine, the other lad-shopping mag.
In other media news:
Ziff Davis media is trying to restructure $390 M. in debt (Keith Kelly)
ABC does some downsizing in its D.C. bureau (FishbowlDC)
Goldmans, Browns in feud over O.J. book deal (MSNBC.com/Today)
Ryan Seacrest will host the Superbowl on Fox (Variety.com)
FSG to face firestorm over controversial Israel book (newyorktimes.com)
Get ready for the Book of Rove: Washington macher is already on the case (Publishers Weekly)