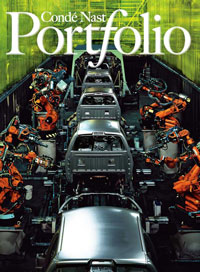 With Portfolio now shifting to a monthly schedule, will Elizabeth Spiers keep churning out takedowns after each issue?
In April, Ms. Spiers reviewed Portfolio's first issue on DealBreaker, a Wall Street gossip Web site that she founded, and has since left.
There, Ms. Spiers began her brutal piece by christening Condé Nast's business start-up "the Paris Hilton of business magazines."
"Pretty but vapid," she called it, "and unlikely to produce anything resembling an original thought."
Digging into specific articles, Ms. Spiers continued on in that vein for nearly 3,000 more words, apparently entertaining a New Republic editor in the process: The magazine commissioned her to review Portfolio's second offering.
On Aug. 20, Ms. Spiers again took the glossy magazine to task—this time on TNR's Web site—and even suggested that S.I. Newhouse replace beleaguered editor Joanne Lipman with Tina Brown. (Well, Ms. Brown did save Vanity Fair after two editors were sacked the first year.)
Also in the piece is a little disclosure.
Back in late 2005, she wrote, she met with Ms. Lipman about a possible job, but didn't follow up on that conversation. That wasn't news: she wrote the same disclosure into her first Portfolio critique.
But this time around there was a little more: "[A] few months ago, the managing editor of the website asked me if I'd be interested in blogging for the website. I said no, but not because of my opinion of the magazine; I just have no interest in full-time blogging at the moment, even for myself."
So after the April hit piece—in which Ms. Spiers dubbed Portfolio "painfully bad," "lack[ing] new and interesting information," and written in the tone of a "naïve outsider" or "newbie"—Portfolio still came calling?
Ms. Spiers told The Observer by phone that she did not want to blog full-time, as she's done in the past—notably for Gawker, and later DealBreaker.
"It's really easy to burn out," she said. "It's more exhausting than people think."
A Portfolio spokesperson told The Observer that Ms. Spiers was never formally offered a job—not that she ever wrote that in the disclosure.
Ms. Lipman typically takes a much less active role in Web sites, as several staffers have told The Observer recently. But would she have ever hired one of Portfolio's harshest critics?
Portfolio.com's managing editor Christopher Jones declined to answer questions about Ms. Spiers' reviews.
Ms. Spiers added that, following the TNR piece, she does not expect Portfolio editors will still want to discuss the prospect of her employment there.
However, she did hear from one staffer after the review of issue two. Washington editor Matt Cooper, by way of Facebook, simply wrote the following: "Ouch."