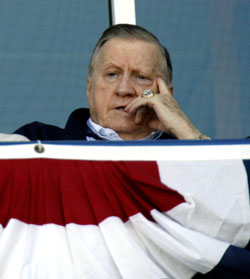 On Aug. 5, the New York Post editorial page opined about George Steinbrenner's contributions to the city these past three decades, a response to increasing questions raised during the week about the Yankees boss' health.
"An article in CondéNast Portfolio confirms a report last month by the Post's Phil Mushnick that Steinbrenner, suffering from dementia, is no longer able to oversee the ballclub that he rebuilt into the greatest franchise in all of sports," the Post wrote.
Two days earlier, Mr. Steinbrenner's face was plastered across the Post's wood. The headline: "Boss Has 'Lost It.'"
What is the Post's diagnosis based on?
The Portfolio story, published on Aug. 2—from the upcoming September issue—recounts a visit to Mr. Steinbrenner's Tampa home by the author Franz Lidz and his wheelchair-bound companion, Tom McEwen.
Mr. McEwen, a former sports editor and friend of Mr. Steinbrenner, assisted in gaining access to the reclusive owner.
Mr. Lidz recounts seeing a pajama-clad figure emerge, using less-than-flattering terms: Mr. Steinbrenner looked, he wrote, "dreadful," "bloated," his face "pale and swollen," his skin looking as though a "dry-cleaner bag [were stretched] over it."
Mr. Lidz also reported that Mr. Steinbrenner answered several different questions with the following response: "Great to see ya, Tommy."
Since December 2003, after fainting at a funeral, the press has pursued the story of Mr. Steinbrenner's health without being able to provide conclusive medical evidence to support several theories—dementia, Alzheimer's and regular old-age forgetfulness have all been floated in the press.
That's why Mr. Lidz was a bit surprised, he said by phone, about the tabloid's response to his piece—which, while describing Mr. Steinbrenner's behavior, stopped short of declaring a diagnosis of dementia.
A veteran sports reporter, Mr. Lidz spent 27 years at Sports Illustrated before moving to Portfolio, so he's been aware of the Steinbrenner coverage in the New York press.
"About a month ago, [Mr. Mushnick] ran a column that George has dementia," Mr. Lidz said, mentioning that that column and a previous one "were buried" in the newspaper. "My story comes out and suddenly makes page one of the Post."
Mr. Lidz said that he's spoken to Mr. Mushnick since, and the columnist was "pretty pissed" that his pieces didn't get front-page treatment.
(Mr. Mushnick did not respond to calls or e-mails; Howard Rubenstein, who represents both the New York Post and the New York Yankees, declined to comment on the recent health-related pieces).
But the Post wasn't the only local paper to see the Portfolio report as a watershed moment in the press's armchair diagnosis of the Yankees boss: In subsequent days, stories ran in the Daily News, Newsday, and the Star-Ledger—but not The New York Times.
"We looked at the article and we felt that we had written a similar article a year ago," said Tom Jolly, the Times sports editor. "We've made reference to questions about his health in the past year."
But "making reference to questions" is not quite the same thing as diagnosing him with dementia.
"Well, I don't know how Phil [Mushnick] reached that conclusion, but we have not been given any medical evidence along those lines," said Mr. Jolly.
He added: "The guidelines are the same as for anything. We can only say what we know. In terms of his actual health, we don't want to speculate."
But of course the public is more than willing to speculate.
Newsday asked readers in response to the Portfolio article, "What's wrong with the Boss?" While 6 percent thought Mr. Steinbrenner was just angry, roughly 75 percent selected the choice that his "physical and mental health are failing."
"It's unclear to me exactly why the papers have been unwilling to address this issue for the most part," Mr. Lidz said. "It has been suggested to me that nobody wants to antagonize the Yankees or George. Of course, it's a lot easier for me to go in—someone who's not covering the Yankees day to day."
Would The Times send a reporter to Mr. Steinbrenner's home, in a similar fashion?
"I think that I would be reluctant to do something like that," Mr. Jolly said.