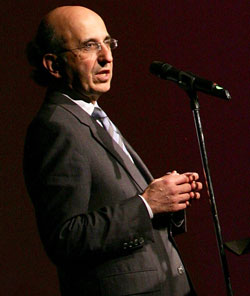 In the past 20 years, there have been 10 schools chancellors in New York City. This week, Joel Klein, a graduate of the public schools here, will mark his fifth anniversary in the job.
Asked broadly about his legacy in a telephone interview this week, Mr. Klein, 60-year-old former White House counsel, provided a glimpse of the survivor's instinct that he clearly possesses. "It's five years, but I'm looking to serve another two-and-a-half," he said, referring to the end of the term for his boss, Mayor Bloomberg.
He did add, somewhat obligingly, "I hope my legacy will be a school that is transformed from one that is dysfunctional, that didn't serve the needs of our kids and that didn't have the confidence of the public to one where we're seeing much higher graduation rates, much higher student performance."
The biggest change in the city school system during Mr. Klein's tenure occurred in 2002, when the state legislature granted Mayor Michael Bloomberg control over the 1.1 million-children school district, wresting control from the autonomous but often dysfunctional City Board of Education. Once firmly installed at the levers of power, Mr. Klein helped push through Mr. Bloomberg's plan to end social promotion and create a citywide curriculum for all schools.
"Fundamentally, in large urban areas, school systems are not remotely getting the results that people think should be happening," Mr. Klein said. "In that environment, I think the politics of school boards can be the politics of paralysis."
Mr. Klein also noted the trend of giving mayors control of their public schools is spreading nationwide. "Cory Booker talked about it," he said. "Adrian Fenty pulled it off in D.C. And I've had other political figures come here and talk to me about how to do it."
While the city has been able to show gains in four-year graduation rates (according to city and state figures), Mr. Klein took care to say that he is only partly happy with the job he's done.
"If you mean satisfied in terms of where I think we need to get to, the answer is no," he said. "There is a lot more that we need to do. If you mean satisfied looking back over five years, the answer is yes."
Parts of Mr. Klein's experimentation with reforming the famously ossified school system have been unqualified failures.
The "suspension centers" for disruptive students, for example, were poorly thought-out and later scrapped. His mid-year plan to change bus routes left kindergartners, quite literally, out in the cold.
A Quinnipiac poll in July showed Mr. Klein's public approval rating hovering around 40 percent. That same poll showed that 51 percent of New Yorkers want the next mayor to share control of the city's public schools with some kind of local community board.
"Sometimes if you don't adequately analyze or reflect on a situation, and you don't think it through properly, you make mistakes," Mr. Klein said. "Some mistakes and missteps are inevitable and you try to correct them when they occur."
True to form, perhaps, Mr. Klein didn't have much to say about what he's planning to do when his time as schools chancellor is up.
"I've been privileged to serve two extraordinary American leaders—President Clinton and Mayor Bloomberg," he said. "I'm not sitting here plotting out my career."