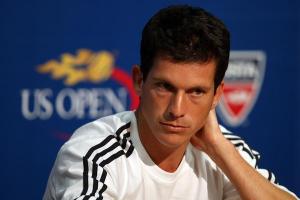 Tim Henman, the British hopeful who never made it past the semis at Wimbledon, announced last week that this US Open will be the last Grand Slam of his career.
"I can't compete the way I want to in the matches," he said at a press conference.
Henman, 32, ultimately could never handle the pressure-cooker that the All-England Club became every time he played a match at The Championships (they even named a plush lawn after him!). And he admitted, however grudgingly, that it still hurts.
"I'm disappointed that perhaps I didn't win Wimbledon," he said.
"You know, I'd be the first to admit that I'd probably be judged on whether I won Wimbledon or not. You know, do I think that's right? No, I really wouldn't think that's right."
He lost in the second round at Wimbledon this year and could be headed for another early exit at this year's Open, where he's battling a back injury.