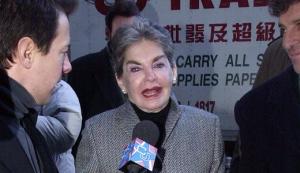 The reports are in from the funeral of Leona Helmsley, which was attended by about 150 people–an invite-only crowd of colleagues, employees and family members. It's no surprise this was not like lying in state; the so-called 'Queen of Mean' was the sworn enemy of many in New York's real-estate elite, not least of all Donald Trump and Peter Malkin, who wrestled with her for control of the Empire State Building.
But from at least one report on the funeral, it seems that those who loved Helmsley tell the same kinds of stories as those who hated her:
"She was a special lady," said Frank LaRuffa, a construction consultant who worked with her for over 35 years. The service "was very quiet, very elegant."
He remembered her as "very tough, however, very fair. When she got angry, she was usually right."
He said that even people she fired had a lot of respect for her.
One even managed to sneak her way back on the payroll, according to an anecdote her longtime adviser John Codey told in his eulogy.
"She was determined to have this woman removed," Codey said, recalling the five-year-old incident.
But he didn't want to see the worker fired; she had a knack with Trouble, Helmsley's beloved Maltese. He tried in vain to convince the impetuous Helmsley to change her mind.
So he told the maid to come back with a new hairdo and outfit in a week, in hopes of fooling Helmsley into thinking it was a different woman for the job.
When the "new" maid came for an interview, Helmsley couldn't believe how well Trouble took to the newcomer, and hired her on the spot.
But the joke was on Codey.
"She knew all along what I was doing," he said.
Helmsley confronted him and called him a "rattlesnake."
"I'll remember her as a friend," he said.
Rest in peace, Leona.