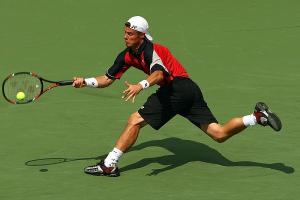 Is former champion Lleyton Hewitt the dark horse of this year's open?
That's the talk around here this week and if today's match was any indication — he rolled over University of Illinois grad Amer Delic in straight sets — he's in his best form in years.
"When you feel confident within yourself, you're happy with where your game's at, you enjoy it a lot more," he said today.
Hewitt, a 26-year-old 16th seed, won his two Grand Slams when men's tennis was in a tattered state — post-Sampras, pre-Federer.
Since the advent of Federer and Nadal, Hewitt was left in the dust.
"Roger or Nadal, they're consistent and they have the firepower," Delic said today. " I think that's where Lleyton gets lost a little bit."
But Hewitt has made the argument this year that his game — he's arguably still the best serve-returner in tennis — is coming back to form.
In his last Grand Slam at Wimbledon, he made it to the 4th round and lost a knock-down, dragout five-setter to Novak Djokovic. And in a tournament in Cincinnati a couple of weeks ago, he brought Roger Federer the distance in a semifinal in which Federer needed two tiebreaks to win.
Hewitt, who last won at Wimbledon in 2002, thinks he's still got what it takes to win another Grand Slam.
"I believe that, yeah, it's in me, that's for sure."