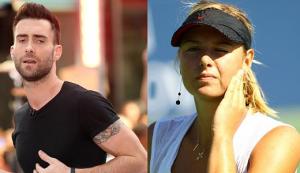 A lawyer for Maroon 5 frontman Adam Levine wants a retraction from Mark Ames, the publisher of the Moscow-based alt-zine Exile.
Ames published an "In Brief" item that began: "The former lover of tennis star Maria Sharapova, Maroon 5's frontman Adam Levine, revealed yesterday why he broke off their brief romance," and continued to explain that the returning U.S. Open star disoriented him by making no noise during sex.
The offending item, which Mr. Ames has since told The Transom that the piece had been written in five minutes from a hotel room in California, and was intended as "throwaway satire" to fill space.
"Americans are the most gullible fucking morons on Planet Earth," he said.
Apparently not just Americans.
Here's what Mr. Levine's lawyer, Jeffrey Worob of Serling Rooks & Ferrara, said in an email to Mr. Ames:
Since the time of your posting, several other news outlets around the world have picked up your "story" and reported it as true in their publications. As such, Mr. Levine has been forced to address the statements and defend his character.
The legal letter–and a draft of the response Mr. Ames plans to publish in his newspaper–follow.
Letter from Maroon 5 attorney Jeffrey Worob to Mark Ames:
Gentlemen,
I am the attorney for Adam Levine and the members of Maroon 5.
It has come to our attention that your newspaper and website recently (Issue #269, August 10, 2007) posted a story regarding my client and his purported relationship with tennis star, Maria Sharapova. In that story, you claimed that Mr. Levine made certain statements regarding Ms. Sharapova (http://www.exile.ru/2007-August-10/in_brief.html). On behalf of Mr. Levine, we hereby deny that such statements were ever
made by him. Should you have any information to the contrary, I would appreciate if you provide me with your sources. Since the time of
your posting, several other news outlets around the world have picked up your "story" and reported it as true in their publications. As
such, Mr. Levine has been forced to address the statements and defend his character.
At this time, my client has asked me to investigate the available remedies he may have against your publication. I am reaching out to you now to insist that you immediately retract the article and acknowledge that the statement was made without any basis in fact.
Unless I receive, within three (3) days of your receipt of this email, your written confirmation of your intention to take the action set forth in the preceding sentence, Mr. Levine will consider retaining local counsel to protect his name, image and character through all available legal and equitable means.
Please note that this letter is not intended to be a complete statement of the facts or law relevant to this matter and is written without prejudice to the legal or equitable rights and/or remedies of our client, all of which rights and remedies are hereby expressly reserved. Our client and I look forward to your immediate response.
Sincerely,
Jeffrey Worob, Esq.
Serling Rooks & Ferrara, LLP
Mark Ames' response:
Dear Mr. Worob, Esq.,
You're not shitting us with this letter, right? Did you say that you're representing Adam Levine, or the state of Kazakhstan vs. Sacha Baron Cohen? Please don't tell us that America's decline has taken us to the point of imitating vain Central Asian dictators…O please, say it isn't true! Say it's something different, like meta-satire of some kind you're pulling on us. Because if you're really who you say you are, a lawyer-type guy, and Adam Levine seriously wants us to issue a formal retraction of satire, then how can we run around believing in a God? It's like, first Jerry Falwell died, which we never thought possible, and now your lawsuit threat is just so retro-People-vs.-Larry-Flynt, it almost feels like the spirit of
Falwell never left us. Hey, wait a minute, that could be a good thing. After all, Flynt is our hero: the guy's a big fat fuck in a wheelchair, and yet he gets more snapper in a day than we smell in a lifetime.
Okay, let's assume the letter's real. Fine. In your "letter" you refer to the piece as a "story" with "quotation marks" around the word "story." Um, "Jeff," if that's really your name, we've got some news that may shock you: there's a reason you put quotation marks around "story": IT'S NOT A "STORY," IT'S FUCKING SATIRE! That's satire without quotation marks. Doyee!
But maybe we're missing something here. Maybe your letter is itself a salvo of sheer comic genius. If so, then baby, you've got a future in comedy. No seriously, with this finger-wagging letter, you've just managed to transform Adam Levine from pop heartthrob into a combination of Dean Wormer and Elmer Fudd, by way of Mrs. Crabtree. What's behind the career change? Are Moron 5's record sales dying so hard that Adam's agent is moving him towards a future playing comic villain foils? Has it got so bad that he's trying to salvage his career by piggybacking on The eXile's minor fame?
Damn, if that's what this is about, then we feels kinda bad-like.
Okay, here, let's make this deal: we'll figure out some way to retract the bit of In Brief satire without snickering, if you promise to have
Adam Levine send us a videotape of him singing a new Moron 5 song with the lyrics: "Oh you waskawy exiwe waskaws! I'we get you, if it's the
wast thing I do! Ooo! [chorus] You're on doubow secwet pwobation/Yeah baby you're on doubow secwet pwobation!"
Actually, truth be told we wouldn't be able to hold up our end of the bargain, cuz, um, well, could someone please explain to us how in fuck's name do you retract satire? We've consulted our brain trust, and for the life of us, as much as your super-scary letter made our
knees a-wobble and a-weeble, and as much as we too would like to bear witness to the most retractiony-retraction in the history of
media-stomping, a retraction that would make Mendelstam's blubbering retraction of "The Stalin Epigram" look wooden by comparison…it's
like, who wouldn't like to see something that groundbreaking? We'd witnessing history! (By the way, you should have seen the parts of the
In Brief we left out—like the line about how Adam Levine "has a great sense of humor, and isn't at all an egomaniacal asshole, nope, not at
all…" That part was REALLY funny, but we were really afraid it would be actionable, and that it might lead to some lawyer-guy who
represents Lollapolooza and indy-rock bands to sue an alternative newspaper, so we thought, best to leave that joke for another time).
Wait, where were we? What's this long response all about? Oh yeah, now we remember. Boyband stud Adam Levine is threatening to ruin us. Sorry, lost our train-of-scared-thought for a moment. We're scared, believe us you. No really, we are. There is serious business to attend to, and that is the business of "retracting" a piece of satire in the next 3 days, or else Adam Levine's lawyers will unleash a doomsday nuclear device that will render The eXile's offices uninhabitable for decades to come (although to be honest, a little nuking might not be a bad thing, would irradiate all the nasty smells and germs in our office). The task is urgent. Readers, we need you're help. Yes, you. It's time for you to stand up and heed the call of duty.
So here goes: WE HEREBY ISSUE AN OPEN CALL TO OUR READERS TO DO THE IMPOSSIBLE: TO SEND US YOUR SUGGESTIONS ON HOW A RETRACTION OF AN IN BRIEF SATIRE MIGHT LOOK. Whoever sends us the best retraction will earn $300 worth of credit at the "gentlemen's club" "Violete," and the three runnerups will win [sic] t-shirts and a big pat on the back. Yes, that's right: save us from Adam Levine's boyband wrath, and we'll get you laid! We'll even throw in another $50 to make sure that your whore screams the entire paid hour.
Hurry, everyone. The fate of the world hangs in the balance.