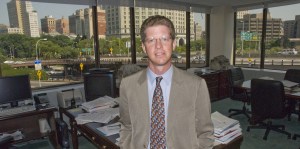 Location: Why is affordable housing so important to New York's economy?
Mr. Donovan: One of the central goals of the economic development agenda for the city under the Bloomberg administration has been to diversify the economy. If you look at New York's economy, tourism has been a key sector, and the mayor has focused a lot on the service-related businesses, construction, a whole range of areas where there's been real strong growth in the economy.
Fundamentally, we must make sure we can continue to attract the low- and moderate-paid workers who fuel those economies.
So this is a fundamental competitive issue for the city as well as being a social justice issue. If the city can't continue to attract and house—and it's really been people from all over the world—it's a real risk to our economy overall.
The NYU Furman Center came out with a study that shows that between 2002 and 2005, New York City lost 139,000 units of housing affordable to households earning the city's median income, which works out to about $1,000 per month in rent. How well can the mayor's affordable housing plan, of 165,000 units over 10 years, fill a gap like that?
Another thing that the Furman Center showed, that I think is important, is that we have a gap of 100,000 housing units [across all income levels]. In other words, to get our housing market back in balance, even today, leaving aside the roughly million people we expect to add to the city by 2030, we have a gap of 100,000 housing units. What's happened, for the 1990's in particular, our population was growing much faster than our housing was increasing. What developed was this housing gap—which in the simple laws of supply and demand, demand goes up, supply doesn't go up, price goes up.
If you look at PlaNYC, there is a very specific plan with a number of concrete steps to increase the capacity for our housing stock by 500,000 units by 2030. We need to continue rezoning. We need to look at creative ways of creatng new land by decking over highways and other areas.
I don't think the 165,000-unit number is the right number when you talk about the Furman study. The broader context [is] how do we grow housing at every income level. Over the last three years, we've had a record level of housing production. Good data on this goes back to 1965, and there's only been, until the last three years, there's only been one year with 30,000 housing permits for the city. We passed 30,000 units in 2005, 2006; and in 2007, based on half a year of data, we should have another year of over 30,000 units.
That seems to be saying that you can't gauge whether or not the Bloomberg administration's New Housing Marketplace Plan can keep pace with the losses because it is too early to tell.
The thing is, the data, looking at what units are online in 2005 isn't going to reflect what the New Housing Marketplace Plan is doing. We are adding and funding 5,000 to 7,000 new subsidized units to the stock each year. Obviously, when you start something and you fund it, these will be completions 18 to 24 months later. And what we've seen is that completions jump significantly this year.
What about rent stabilization? What does the Bloomberg administration think about raising the $2,000 cap for when a landlord can take a stabilized apartment market-rate?
We have been supportive of it and believe that it ought to keep pace. The governor talked about this during the campaign. There was a recent legislative proposal to raise it to $2,800. To be perfectly honest, I think it's a tough fight in the [state] Senate to get it passed, but we've been supportive of it.