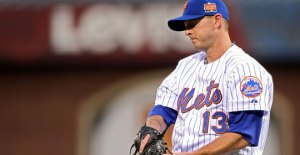 "Pen Dry as Phils Get Closer," screamed the Aug. 29 Daily News.
"No Relief in Sight," said the Post.
"Maybe Randolph, Mets Should start to Panic," advised a columnis in Newsday.
Or maybe not. Mets fans should take heed: while New York's bullpen is far from perfect, those of the teams chasing the Mets in the National League East are much worse.
The Mets' bullpen has undoubtedly taken a step back from 2006. With perpetual scapegoats like Scott Schoeneweis and Guillermo Mota in this year's mix, there is an understandable measure of concern that this season's bullpen is simply not good enough for a World Series-caliber team.
But the 2007 Mets will not be facing the 2006 Mets as they seek October glory. The 2007 Phillies, Braves, Cubs, Brewers, Padres and Diamondbacks are the teams in their way—and nearly any of them would trade pitching staffs with the Mets in approximately a nanosecond.
It's true that the Mets bullpen is down relative to last year. The 2006 edition sported a 3.28 ERA, with opponents hitting .239, with a .303 on-base percentage and a .361 slugging percentage against them; in 2007, the ERA stands at 3.83, the opponents' batting line at .252/.327/.394.
But it isn't the stats the have many fans convinced that this bullpen is, simply put, terrible. It's the perception that somehow, even as the rest of the team does its job, the bullpen has a way of producing losses in crucial situations. Case in point: on Aug. 28 against the fast-closing Phillies, Tom Glavine turned over a 2-0 lead to the bullpen after seven innings. Final result: Philadelphia 4, Mets 2.
Of course, the Phillies' closer, Brett Myers, hasn't blown a game since … Saturday, Aug. 25, when he gave up two runs to take the loss after set-up man Tom Gordon gave up the lead. (Myers then proceeded to call a Phillies' beat writer "retarded.")
The other team chasing the Mets in the NL East, Atlanta, doesn't even have a real closer. They designated their first-choice door-slammer, Bob Wickman, for assignment last Friday. A makeshift closer-by-committee system produced Oscar Villareal (one career save, against the Mets, naturally) in the eleventh inning Wednesday night. He gave up a run. The Braves lost again.
The Mets, by contrast, employ the best closer among National League contenders, Billy Wagner, whose 2.05 ERA, 69 strikeouts in 57 innings along with just 18 walks have made him into as automatic a save as anyone in baseball. (Among NL closers with more than 30 save opportunities, only the Dodgers' Takashi Saito has a better conversion percentage).
Comparatively, here's who the other NL contenders have as top option: Philadelphia—Brett Myers (4.89 ERA), Atlanta—was Bob Wickman (3.92 ERA), now appears to be Oscar Villareal (4.11 ERA), Chicago—Ryan Dempster (3.18 ERA), Milawakee—Francisco Cordero (3.20 ERA), Arizona—Jose Valverde (2.65 ERA) and Trevor Hoffman (2.63 ERA). Only Valverde approaches Wagner's peripherals, but he also comes with six blown saves, a tendency to melt down, and is quickly approaching his career high in innings.
The Mets' second option is Pedro Feliciano. Anyone who has complained that the Mets lack a suitable eighth-inning option simply haven't been paying attention to the development of Feliciano, who has made the transition from left-handed specialist to valuable relief pitcher, period. Most teams would love a reliever who holds righties to a .202 average, as the left-handed Feliciano does. That lefties are hitting just .149 against him doesn't hurt, either.
Other contenders have somewhat reliable second options, but even the best of these, former Met Heath Bell of the Padres, is only really successful against batters from one side of the plate: righties are hitting .174 against him, lefties more than seventy points higher at .248. Ryan Madson of Philadelphia sports a 3.05 ERA—but righties have a batting average against (BAA) of .275. The Braves' eighth inning option, Rafael Soriano, has been battered by batters of all handedness and creeds in the second half, allowing 9 home runs since June 1 and a .527 slugging since the All Star Break. The Cubs' Carlos Marmol has been death on lefties (.151 BAA), not nearly as good against righties (.238 BAA). Ditto Milwaukee's Brian Shouse (.159 vs. lefties, .244 vs. righties). Arizona's Tony Pena is reversed—.164 vs. righties, .245 vs. righties.