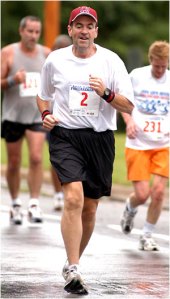 Today's First Read from NBC News takes note of the glowing reviews Mike Huckabee has been winning in the key early primary state of South Carolina and points to a weekend article from that state's top political writer, Lee Bandy of The (Columbia) State.
Of a recent Huckabee visit to York County, S.C., Bandy writes:
Huckabee wasn't prepared for the raucous reception he got.
The York Republicans gave Huckabee a hero's welcome. The applause and cheers were deafening, never seeming to end.
Buoyed by the response, Huckabee charmed his audience for the next 30 minutes with his jokes, down-home personality and resume.
Huckabee also let his listeners know he is a different kind of Republican, one who comes from humble beginnings — a working- class family. His interests and priorities are allied with working people, he said.
What makes this particularly interesting is that Mitt Romney, who is desperately trying to play the true conservative in the G.O.P. race, has so far faced a stubborn electorate in South Carolina. His act has worked perfectly in the three other early states – Iowa, New Hampshire and Nevada, all of which he now leads in – but he lags in single digits in the Palmetto State.
Some have speculated that this is because of Romney's Mormon faith, a tough sell in such a devoutly Christian state. Huckabee, by contrast, is a perfect cultural and religious match: a son of the South and an ordained Baptist minister. And, unlike the other candidates, he has a cheery and telegenic personality that matches Romney's – and probably exceeds it, in that Huckabee seems more genuine.
Suddenly, it's not so much of a stretch to paint a scenario in which Huckabee contends seriously for the G.O.P. nod. His second place showing in the Iowa straw poll earlier this month certified him as the darkhorse to watch there – and may have marginalized Sam Brownback, Huckabee's chief rival for the hearts of that state's Christian conservatives. Romney is now the favorite in Iowa, but a strong Huckabee showing there on caucus day could give him the "Big Mo" that the state is famous for producing. Huckabee seems like such a natural fit for South Carolina – and the other candidates are such awkward fits – that he'd probably be the front-runner there if he could get an Iowa bounce. So a scenario can be painted in which Huckabee is the media's "winner" in two of the first three states.
Right now, Romney and Rudy Giuliani are the G.O.P. front-runners – Giuliani for his deep national support (positioning him well for the mega-primary of February 5) and Romney for his strong early state support. But as Fred Thompson dawdles, Huckabee may be emerging as the most likely to crash the front-runners' party.