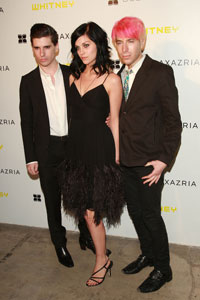 On Thursday, Aug. 17, in far, far West Chelsea, a large loft space was outfitted with nightclub-style lighting and miniature kegs of Heineken for the launch of something called DraughtKeg. Beer, unfortunately, was the only thing on the menu—and the models, arriving in droves, weren't drinking it. They sat sequestered in a V.I.P. area directly in the center of the room, talking amongst themselves and with Steve Stifler—oops, we mean actor Sean William Scott—and CariDee English of America's Next Top Model. Packs of burly post–fraternity-type men in button-down shirts circled the perimeter.
Meanwhile, star D.J.'s the MisShapes, skinny and black-clad, huddled with several creature-of-the-night friends behind the D.J. booth, looking bored. Occasionally, one of them donned headphones and approached the turntables. "For corporate events like this, it's like, whatever," said the "smart" MisShape, Geordon Nicol, from behind his shock of severe black hair. "At a regular party, everyone's coming to mingle and hang out and talk and dance. This is different."
The Transom asked Mr. Nicol about the forthcoming official MisShapes tome out from powerHouse, September 4. "It's a fashion portrait book," he said. "Celebrities, musicians, homeless people, everyone all over New York. Sally Singer from Vogue wrote one of the forewords. [Musician] Jarvis Cocker wrote a foreword. And Legs McNeil, the author of Please Kill Me, wrote a foreword." The promotional blitz will be sponsored, incongruously enough, by Henri Bendel. "We did all the windows at Bendel's, and they're preselling the book there," Mr. Nicol said. "On September 8th we're having a book party, and between now and then we're going to be in Phoenix, Austin, L.A., China, London, Paris, Spain, Milan, then we go to Japan, then we come back, then we go to Japan again." Whew!