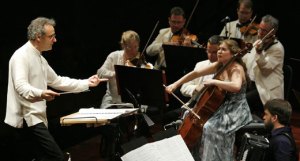 As you may have noticed, Mostly Mozart isn't mostly Mozart anymore. Other powerful figures—Beethoven, Schubert, Rachmaninoff, Fauré—are making themselves felt as never before, thanks to the festival's imaginative artistic director Jane Moss. If one of them reigns above the rest, however, it's Osvaldo Golijov, the Argentine-American composer whose music, more than that of any of his classical contemporaries, manages to generate something like rock-star excitement. He's the festival's first—well, first living—composer-in-residence.
But is his music classical? The answer is yes—and no. The most glorious example of this predicament is his La Pasión según San Marcos (2000), the final musical atom-burst of the past millennium, which sets the story of Jesus' death amid the poor denizens of modern Latin America. Lincoln Center offered it to New York audiences last year, and a well-attended repeat performance with most of the same artists, held on Aug. 18 at the Rose Theater and encored the following afternoon, was easily a highlight of the summer.
There have been moments of classical serenity in Jane Moss' concerts throughout the season, but never more, perhaps, than in Mozart Dances, which took over the New York State Theater for four nights starting Aug. 15. To see the men of the Mark Morris Dance Group—led, in stately manner, by the veteran Joe Bowie—enact Mr. Morris' complex physicalization of Mozart's Sonata for Two Pianos in D major—performed with grace and power by Emanuel Ax and Yoko Nozaki—was to experience a bliss that was almost beyond understanding.
As Mozart Dances demonstrated, the Mostly Mozart Festival Orchestra has improved, and its music director, Louis Langrée, is an undisputed expert in the authentic performance practices of the 18th century. But on the festival's opening night (July 31), after a bracing initial allegro spiritoso in Mozart's Linz Symphony—the rhythmically taut phrases snapping like spinnakers in a breeze—the other three movements sounded generically quick and amiable, without the daubs of light and sha dow that the first movement revealed. This happens a lot when Mr. Langrée is at the podium. And though I'd heard great things about the young British pianist Paul Lewis, his account of Beethoven's Emperor Concerto had a glassy, machinelike perfection that was devoid of warmth and feeling.
After the intermission came the New York premiere of Golijov's cello concerto Azul (Blue). It was a great vehicle for the expert young American cellist Alisa Weilerstein, her auburn locks tossing about as she played with impressive passion. (The work was composed for Yo-Yo Ma—who world-premiered it in 2006 with the Boston Symphony—and then revised.) But despite the keening Mahlerian melodies, the touches of Hollywood orchestration and the big role for an active Latin-style percussion section, it remains mostly a vehicle for an enthused cellist.
Azul's vaguely sectional form—consecutive, but not, like Bach, accumulative—may be the only fault it shares with La Pasión según San Marcos, an otherwise vastly more compelling work. In making his Pasión, Golijov drew on his Eastern European Jewish background, his bitter personal experience of Argentina's "Dirty War," and a bubbling stew of folk music and dance from Cuba and Brazil. It all makes for an exhilarating 90-minute slam of sounds and visions.
Pasión opens with a Bahian "Dance of the Ensnared Fisherman" (acted out by Deraldo Ferreira, a player of the berimbau fiddle and a dancer in the martial-arts style called capoeira) and ends with an Aramaic kaddish chanted by the bossa nova princess Luciana Souza. In between, the power and words of Jesús are spread among the forceful singers of the Schola Cantorum de Venezuela and the stunning, flamenco-inflected recitations of the singer-dancer Reynaldo González Fernández—all backed up by the Orquesta La Pasión, a sizzling Afro-Cuban horn, piano and percussion band with a rank of classical strings.
The only purely classical part of the piece is "Lúa descolorida" ("Colorless Moon"), a lullaby-like song set to an interpolated text on death and longing by the Galician poet Rosalía de Castro. It was meltingly intoned by the soprano Jessica Rivera who, like most of the other participants—including the energetic and devoted conductor, Robert Spano—is a member of Golijov's floating musical tribe, whose members gather from around the world to give life to his creations. Will successive generations of performers, who'll never have worked with "Ozzie," react to this piece with the same infectious fervor? Time will tell.
TIME IS DEFINITELY ON THE MINDS of the many fans of Nickel Creek, the extraordinary post-bluegrass trio that offered a Farewell (For Now) concert on August 14 at Central Park's Rumsey Playfield. Though still quite young, its members—mandolin player Chris Thile, fiddler Sara Watkins and her brother, guitarist Sean Watkins, all doubling on vocals—have announced an indefinite "hiatus" so that they can pursue their separate paths.
I'm surely not the typical Nickel Creek fan. But the songs on their third album, Why Should the Fire Die? (Sugar Hill, 2005), astounded me with the way the vast range of influences (bluegrass, techno, emo, Dylan, Bach) were stitched together with such organic inevitability and needlepoint precision—music in an almost classical style. And now it's over, at least for a while.
The regret might have cut deeper had the group bid farewell to New York with a concert at an intimate club. But the performance in the park was a celebration: They joyously went through several of their best songs (including "Helena," "When in Rome" and "Anthony") in addition to backing up Fiona Apple on a selection of her hit tracks (beginning with "Extraordinary Machine").
Ms. Apple is a magnetic entertainer who spins her style out of the tradition of Patsy Cline and Jo Stafford; she'll do fine. Nickel Creek, however, is a protean ensemble that has created its own, improbably affecting mini-genre. Was it meant to last?
Russell Platt is a composer and a music editor at The New Yorker.