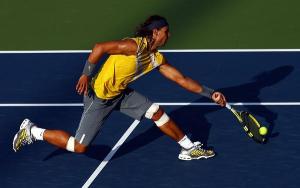 On Day Three, we have the biggest story of the U.S. Open.
Rafael Nadal just told the press that he has an injury so severe to his left knee that if this were any tournament other than the U.S. Open he would not be playing. At a practice on Sunday, he said he felt a shooting pain in his left knee that was later diagnosed as an inflammation of the tendon. Today, he limped his way to an unconvincing four set win.
"You saw the match," he said. "I didn't run too much, no? I can't move too much."
When I asked Rafa why both of his knees were taped today, he said that the tape on his right knee was there as a precaution because of an injury he sustained during Wimbledon.
Now with Rafa wobbling on two weak knees, and with his U.S. Open chances in serious jeopardy, this comes as absolutely fabulous news to Novak Djokovic, Lleyton Hewitt and Marat Safin (all of whom are on his side of the draw) who now have a far more realistic shot of pounding their way into the final.