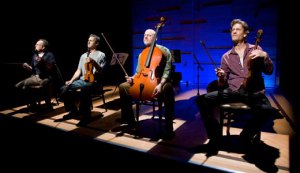 We like plays with lots of classical music in them. It adds a touch of class to the proceedings—and if all else fails we can always enjoy the music.
Prodigies with musical talent kissed by God have occasionally been portrayed onstage with great success—the apparently infantile genius, Mozart, and that apostle of mediocrity, the envious composer Salieri, in Peter Shaffer's wonderful Amadeus (1979), or the diva Maria Callas teaching young opera singers in Terrence McNally's memorable Master Class (1996).
But it's a risky business: What if the play can't begin to compete with the music? In Prelude and Liebestod (1989), Mr. McNally based his flamboyant conductor of an imaginary symphony orchestra on Leonard Bernstein (perhaps with a touch of the imperious Herbert von Karajan thrown in). But here I found the short play about passion and sexuality was overwhelmed by the indescribable beauty of the extracts from Wagner's Tristan & Isolde.
If I had to choose a favorite piece of music, it would be the Act I Prelude. There were times during Mr. McNalley's diverting though lightweight play when I couldn't help thinking, doubtless unfairly, "If only we could skip the play and listen to the Wagner."
That's mostly my response, I regret, to Opus, Michael Hollinger's melodramatic new play with music (by Beethoven, Bartok and Bach). Mr. Hollinger was once a violinist—he studied music at Oberlin Conservatory—and the concept of his drama about a string quartet and its creative struggles is refreshingly novel. In that welcome sense, Opus has the potential to be a fascinating miniature master class with four chairs, four music stands and five actors.
But when his musicians try to explain the ineffable power of music in a faux interview that serves as an overture to the play, the playwright is already in trouble. Elliott, the intellectual one, begins by quoting Goethe's definition of a string quartet: "A discourse among four reasonable people." (Not bad, we might think, expecting more from Goethe.) Carl, the solid family man, tells a creaky joke that defines a string quartet as "one good violinist, one bad violinist, one former violinist and someone who doesn't even like the violin." And here comes Dorian, the temperamental genius of the quartet, grasping for the right words as the second theme from the Cavatina movement of Opus 130 reaches a stirring crescendo:
"At its best … when everything's working right, when everyone's open to it, it's … lovemaking."
Lovemaking?
"It's just … pulsating," Dorian goes on, transported by the music. "Like it's alive, like some living, pulsing organism … copulating with itself."
You see the problem. Mere mortals trying to define divinely inspired music shouldn't. Furthermore, the onanistic Dorian is supposed to be a genius! But if we put Opus to a severe test and remove its music, we're left with a conventional drama with backstage bickering, a fanciful plot driven by its middle-aged gay lovers, and an unbelievable showdown following a triumphant performance at the White House of Beethoven's dread Opus 131 in C sharp minor.
Unpredictable, chemically dependant Dorian is the true artist in the group, and we know this because he breaks bows in temper tantrums. In a series of flashbacks, it's at first hinted that he might have killed himself. He's been abandoned by his lover, Elliot, a nasty old queen and lead violinist of the fictional Lazara Quartet, who will surely get his comeuppance. An awed—though ambitious—ingénue, Grace (played by the appealing newcomer Mahira Kakkar), is the brilliant viola player hired to replace hysterical Dorian. Alan, a drab divorcé, fancies Grace and enjoys baseball ("How about that double play at the plate?" he asks her). Finally, there's Carl, who likes peace and quiet so much he tells us he broke the TV remote twice when his kids were being a nuisance at home. Carl's cancer is cured—or not: He'll find out at his cliffhanging checkup.
It's the ordinariness of it all that contrasts so dully with the music. Mr. Hollinger's name-dropping gives the dialogue a casual, cultivated veneer. "We were performing K. 590 in Brussels. …" (K. 590: Mozart's last quartet, the third of the so-called Prussian Quartets in F. Thank God for Google.) The musical performances of the quartet during Opus, which has been directed by Terrence J. Nolen for Primary Stages, are suggested remarkably well by the cast in discreet, dynamic mime to the original recordings. Unfortunately for the overwrought play, the music's the thing.