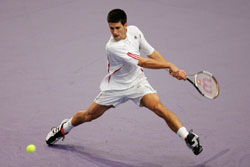 Roger Federer might be the greatest all-around player ever, and his rival Rafael Nadal might be the best of all time on clay.
Novak Djokovic, a 20-year-old Serbian, is ready to make the case—a more convincing one than we've seen in years—that there's room for three players at the top.
Since winning a tournament in Miami, reaching the semis at both the French and Wimbledon, and, this month, winning in Montreal, he has landed at No. 3 in the ATP rankings and now has a realistic shot at pushing his way into the finals at the U.S. Open.
The tennis world has noticed. He's featured in this month's Vogue, with a photo spread and the seal of approval of John McEnroe, who says he'll be better than American golden boy Andy Roddick.
It's easy to see why Djokovic would transition well into the mainstream: He's funny, articulate, cocky and distinctive-looking. (After winning matches, Djokovic adheres to a recently forgotten tennis tradition by tearing his shirt off with carefree abandon, revealing a skinny body to go with his striking Sonic-the-Hedge-Hog haircut.)
When you watch him play tennis, it can be a mystery as to why he's so good. His postgame stats often don't say much. He won't have many more winners than unforced errors; the percentage of points he wins off his first serve is unremarkable. His serve, his forehand and his backhand are all perfectly acceptable shots, but there's no Federer forehand, no Sampras serve.
And yet, time after time this year, he's pulled it all together.
He did it in Montreal when he knocked off Roddick, Nadal and Federer to take the Rogers Cup. It was the first time anyone has ever beaten Nadal and Federer back-to-back in a tournament.
In the process, he showed that he's good enough to beat these guys at their own game. Against Nadal, for example, he won by playing astonishingly good defense, battling and saving eight break points to lead to a straight-sets victory.
Against Federer, the win was even more striking. Federer has lost only five tiebreaks this year and three have come at the hands of Djokovic, twice in that match (by a lopsided combined score of 14-4).
His strategy was obvious but effective. Djokovic constantly assaulted Federer's backhand, and wasn't baited by the seductive backhand spin shot that the 11-time Grand Slam winner uses to set up passing winners all the time. Every time Djokovic saw it, he pulled back and restarted the rally, the way a good point guard restarts offensive sets in basketball.
Perhaps one public indication of Djokovic's legitimacy as a tennis-great-in-the-making is that the unfailingly chivalrous Federer is starting to make a habit of taking public jabs at him. Federer said in an interview with ESPN before the final in Montreal that the first time they played, he "wasn't that much impressed" with the Serbian. After Djokovic's shocking triumph in Montreal, Federer called the match "insignificant."
Djokovic, though, wasn't having it.
"That's my lifetime goal," he said at a press conference after beating Federer. "To be the No. 1 player in the world."