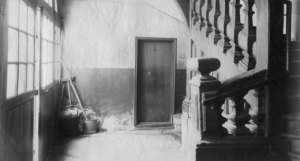 There's no way around it: Eugène Atget's photographs, the subject of an elegantly appointed exhibition at Zabriskie Gallery, are beautiful. His immaculately poised depictions of Parisian houses, streets and monuments never take a false step. Although most of Atget's oeuvre dates from the early 20th century, it is essentially 19th century in character—his great subject was history passing.
Notwithstanding these considerable merits, can Atget's lovingly rendered nostalgia be considered art? Or is it, rather, a purposeful contribution to the history of art? It's a silly question on the face of it. Atget's place in the history books is guaranteed. His Modernist bona fides are in order—the photographer Berenice Abbott (1898-1991), for example, was an unceasing and enthusiastic advocate. Atget's photos were admired by, among others, Matisse, Picasso and Man Ray. Atget, in other words, had fans in high places.
But with significant exceptions, Atget's accomplishment is drabber than we might like to admit. The photos aren't bad, necessarily; it's that their pleasures don't redeem a plainness of vision. Whatever he set his sights on, whether antique statuary or a sprawling country estate, Atget focused on the particulars of his subjects rather than on those of his medium. He didn't think of himself as a photographer; he preferred the term "author-producer." It's rare for an artist to be so unpresumptuous.
Orphaned at a young age, Atget (1857-1927) was raised by an uncle and went on to pursue a number of avocations. He was a sailor, a painter, a bit actor in a theater troupe and, for a time, studied to become a priest. He retained a lifelong sympathy for the working class, and was given to quixotic habits: Late in life he adopted a diet comprised solely of bread, milk and sugar.
At the age of 41 and without formal training, Atget took up photography as an expressly commercial venture, selling his images of plants, animals and the natural world to artists for use as reference material. Upon recognizing the ruthless momentum of urbanization at the turn of the 20th century, the Bibliothèque nationale de France and the Bibliothèque historique de la ville de Paris commissioned Atget to photograph old Paris—the project that would come to define his aesthetic legacy.
Atget's romanticism, though filtered through a cool remove, is unmistakable. He rued modernization, not least because it threatened the livelihoods of small merchants and tradesmen. The work's bittersweet ambiance—its gravity and longing—is antithetical to the speed and invention of early 20th-century culture. Atget preferred history's comforts, however dilapidated, to the promises of a new age. An appealing mustiness pervades this backward-looking art.
Ironically, the irreverent Surrealists embraced the reactionary Atget as one of their own. He took photos early in the morning for practical reasons—to avoid pedestrian traffic and, one imagines, distracting public scrutiny. But in doing so, Atget transformed Paris from a bustling metropolis into a ghost town. The photos aren't suffused with calm so much as bereft of vitality. Their emptiness is disconcerting; Paris is a void, a no-place similar in detail and mood to de Chirico's skewed and deserted plazas.
Abbott wrote that Atget "persisted in his choice of un-pictorial subjects … the structure, the flawless compositions were there to clarify and express the subject." Commending a pictorial artist for an "un-pictorial" bent is puzzling. What does it mean? There are aspects of Atget's photos that are adamantly pictorial—a startlingly clean, all-over focus and extreme elisions of space, for example. But Abbott inadvertently suggested Atget's chief failing: He wasn't a photographer.
Employing a camera isn't necessarily the same thing as taking a photograph. The latter requires a thorough knowledge of the medium's characteristic necessity: light. The photographer's responsibility is to give body and emphasis to light—to divine its formal, evocative and structural capabilities. To point and shoot isn't enough.
Atget knew what he wanted and took the shortest path between stubborn intent and unerring result. His no-nonsense approach can be bracing, but it's also pedestrian.
Yet there are sterling examples of photography at Zabriskie—Escalier, rue Deautreilles, with its cleansing wash of light, and the breathlessly zooming space of Rue de la parcheminerie (both undated). Atget's simultaneous emphasis on and undercutting of architectural underpinnings in Ancien Hôtel Gallardo, 27 quai d'Anjou (1914) is astonishingly subtle. But these examples are few and far between; sometimes a guy gets lucky—that's how the history of art will remember him. Posterity, on the other hand, will thank Atget for recording a time and a city come and gone.
Eugène Atget (1857-1927) is at Zabriskie Gallery, 41 East 57th Street, until September 8.