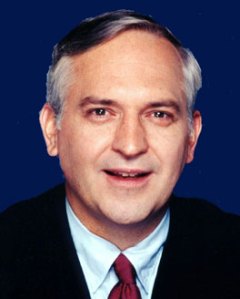 Karl Rove's resignation is easily the biggest news story today, and it broke first in the pages of the Wall Street Journal.
Typically, such news might appear on A1, in the right hand column. Instead, Mr. Rove's anticipated date of departure—by the end of August—was reported on A15, in the sixth paragraph of an interview with editorial page editor Paul Gigot.
On the Journal's front page, there is only a stock photograph of Mr. Rove waving and smiling, with the following teaser: "Why Karl Rove Plans to Leave The White House."
At 6:46 a.m., The Journal published a news story that essentially reiterated what Mr. Gigot discovered in his exclusive interview, with the byline, "Wall Street Journal Staff Reporter."
It wasn't until the next hour that The Journal's White House correspondent John D. McKinnon filed a news story. (Now, that piece includes a video interview with Mr. Gigot discussing his scoop).
So where was the Washington bureau on this story?
"We don't talk about our internal news decisions," said David Wessel, the Journal's deputy Washington bureau chief.
He added: "As you know, the editorial page and the news department are separate."
Of course, the Chinese Wall between editorial and news is a vital part of The Journal's legacy.
But does that preclude Mr. Gigot from informing the news side of a huge breaking story, which he learned two days earlier?
Mr. Wessel declined to answer whether he was aware of Mr. Rove's resignation before today.
Regardless, this scoop allowed Mr. Gigot the prime opportunity to show off the editorial page's Washington clout to his future boss, Rupert Murdoch, said one Journal staffer. Mr. Murdoch, in recent interviews, has made no secret his intention to beef up the paper's political coverage in the nation's capital.
That said, would the New York Post's editorial page hold such nugget—or, more likely, would the news be splashed across the tabloid's wood?
A Journal spokesperson declined to comment on internal news decisions. Managing editor Marcus Brauchli is away, and could not be reached for comment. Page One editor Mike Williams could not be reached for comment. Mr. Gigot declined to comment.