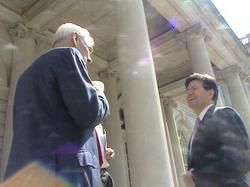 A few minutes ago I ran into Eliot Spitzer's former gubernatorial challenger, John Faso.
Faso has had the unfortunate luck of running against two Democrats who became embroiled in ethical flaps after it would have been of any political use to him. First, he came within about 162,000 votes of of beating Alan Hevesi in 2002. By the 2006 re-election, Hevesi was engulfed in a scandal about using state employees to chauffeur his ailing wife. That year, Faso ran against Spitzer, who now has his own problems.
Faso, now a lobbyist with Manatt, Phelps and Phillips. was heading into City Hall but stopped here to chat with Mickey Carroll of Quinnipiac and City Hall gadfly Rafael Martinez Alequin.
Alequin, never one to miss an opportunity, asked Faso if he was going to run for office again, to which Faso jokingly replied, "I'm running for my life."