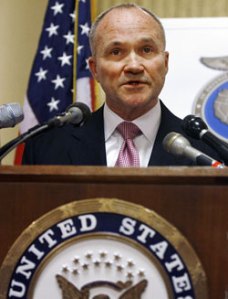 On Aug. 19, Ray Kelly became the first city police commissioner to visit the new headquarters of the Rev. Al Sharpton's National Action Network on 145th Street in Harlem.
Wearing a black suit and saffron-colored tie with a knot the size of a fist, Mr. Kelly, who is rumored to be interested in running for mayor in 2009, strode onto the stage and settled next to Mr. Sharpton. After a polite introduction, he read a 17-minute speech to the mostly black audience about the police shooting death of an unarmed civilian, accusations of racial profiling and efforts to hire more minorities in the department.
The department had "worked hard to forge a new climate of respect and cooperation, but we know a lot more has to be done," Mr. Kelly told the audience. Recent police data, he said, showed that "stops by race are proportionate to the description of suspects provided by victims of violent crimes."
On racial profiling, Mr. Kelly said that the department "has been criticized for stopping African-Americans in excessive numbers to the black share of the city's population, which is approximately 25 percent." But he produced numbers to counter what he said was an unjustified perception, claiming that 55 percent of people stopped and frisked by police were African-American, "which relates to the fact 69 percent of all violent crime suspects described by victims and witness last year were black."
The reaction was mixed.
"I believe he is a flat-out liar," said audience member Lloyd Nelson, a Bronx resident in his 40's who said he's been questioned by police for no reason. "There's no need to ask me where I'm going, unless I'm loitering, but even then I may have a legitimate reason to be there."
When asked whether he could support Mr. Kelly in a possible mayoral race, Mr. Nelson stared in a way that wasn't entirely friendly and said, "My look doesn't say it?"
But the overall reception the audience afforded Mr. Kelly was polite, if not overtly enthusiastic. "I thought it was respectful," Mr. Sharpton said afterward. "He has been conversant."
"In Giuliani's time, this couldn't have happened in One Police Plaza, let alone at the House of Justice," he added, referring to the National Action Network headquarters.
Still, Mr. Sharpton wasn't prepared to suggest that African-American New Yorkers would actually support Mr. Kelly if he ended up running for mayor.
"From the field that's out there now, clearly Billy Thompson is probably the strongest, I think, with the African-American voter," he said, referring to the city comptroller, who is black.
He also said that Bronx Borough President Adolfo Carrion, who is Hispanic, could not be ruled out.
"But," Mr. Sharpton said, "I'm sure that the commissioner was not thinking of politics when he came here this morning, because he never supported me when I ran, so I'm sure he didn't think I'd have him at the top of my list."
Holding court with reporters outside the building afterward, Mr. Kelly said, "I think the reception was cordial—I thought it was warm."
A nonreporter on the fringes of the sidewalk media scrum shouted a question about what Mr. Kelly was prepared to do about "post-traumatic slavery disorder."
"I wanna know how you're gonna help that," he said.
"I don't think that is a function of the police department," Mr. Kelly said, smiling firmly. "I don't have an answer for that."
When the man went to follow up, Mr. Kelly cut him short with the skill of a polished retail politician. ("I appreciate your concern.")
With a quick thumbs-up, Mr. Kelly turned away, heading for a black S.U.V. idling nearby.
A reporter tried one last question: "Can you talk about your mayoral ambitions?"
"Sorry?"
"Your mayoral ambitions."
"I have no mayoral ambitions," Mr. Kelly said, and climbed into his vehicle.