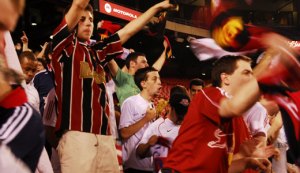 Professional soccer games at the Meadowlands, for the most part, are a family affair: Children play tag through rows of empty seats, youth teams scrimmage at halftime and the crowd noise, when there is any, is largely in the prepubescent-soprano range.
Then there are the fans in Section 101.
They slip in and out of British accents. They call the officials puta and maricon. They mock injured players—"Dig a hole and fucking bury him!"—and challenge the size of opponents' cojones. They crowd-surf over terraced seating, and at the end of the match 200 of them link arms and pogo through the rows like giant slinkies, kicking up empty beer cups and torn game-program confetti while two Ecuadorian drummers rattle off the beat of The Surfaris' "Wipe Out".
When the Red Bulls win, there's a mosh pit by the souvenir stand.
Meet the Empire Supporters Club. Though they appear to fill roughly 3 percent of the seats in Giants Stadium on any given game day, they are arguably responsible for the majority of the atmosphere and alcohol consumption. Members include students, construction workers and at least one manager at a Fortune 50 company. Drawing from a huge variety of ethnic soccer traditions, their fandom is a hybrid unlike any found in New York sports: the scarves, banners and cleverly insulting chants of Europe; the tireless dancing, chanting and smoke bombs of South America.
Their cultural appropriations make them a sort of soccer spectator's Society for Creative Anachronism, in which knowledge of obscure medieval history is replaced with statistics and rosters of European leagues, and scarves (in 90-degree heat!) fill in for foam swords. Despite their patently nerdy enthusiasms, many of them present themselves as passionate, rowdy and, like their foreign counterparts, a little dangerous.
"You've got your professional and academic life, and you have to maintain some sort of authoritative respect and deference to society," explained 29-year-old Seton Hall law student Anthony Poulin, shirtless, between sips of Coors Light at a tailgate before a recent match against D.C. But come game day, "I get to yell, scream, drink, go crazy and do things I would never do in public anywhere else. And the first thought I have when I go to bed at night is, man, I can't wait till Saturday."
Call it playing hooligan. A visit by a reporter prompts three different fans to put on a Cockney accent and reference a line from American soccer flick Green Street Hooligans—"He's a fucking journo!" Or take their local versions on two classic English chants—"You're going home in a Jersey ambulance" and a song about the pope telling rivals DC United to "fuck off" on a visit to Rome.
The E.S.C.'s organizer is the mild-mannered Corey Jamison, a 31-year-old travel Web site employee from the Bronx. At a full-framed 6-foot-3, Mr. Jamison is large enough that members listen when he pipes up in Section 101. As a liaison to the front office, he's one of the most even-tempered of the bunch. "Our basic creed is that we're a nonracist, nonviolent supporters club that just comes to support our team," Mr. Jamison explained. "We stand and sing for 90 minutes, but that's basically it."
The behavior of the group is typically a bit more colorful than that, though.
"You can shove clam chowder up your ass!" they sing against New England. "You know she thought this was catered!" to a visiting fan's bulging wife from D.C. And into the abyss of their own 80,242-seat stadium, which hovers around one-eighth capacity for most home games: "Here's your famous, here's your famous, here's your famous E.S.C.!"
That fame is debatable. When asked if he's ever heard of the Red Bulls' European-style supporters-group that stands behind the west-end goal each match, WFAN host and New York sports maven Joe Benigno drew a blank: "Absolutely not."
Mr. Benigno's obliviousness probably wouldn't faze the E.S.C., whose members have never received much encouragement off the field or on it. Despite having had star players since the formation of Major League Soccer in 1996—they currently field Juan Pablo Angel, the league's third-best scorer, and former U.S. national team captain Claudio Reyna—the Red Bulls have never managed a league title, often finishing in the middle of the pack.
Attendance has been consistently dismal (one home game drew just 7,802 this season), and even when Section 101 is at its loudest, the acoustics of Giants Stadium invites comparison to a tree falling in the woods. There's also the little matter of the team being renamed after a caffeinated beverage last year when Red Bull bought out the MetroStars on their 10-year anniversary. (The vast majority of E.S.C. chants and banners have not adopted the new name).
"I always hoped that the MetroStars would win an M.L.S. Cup, if not for the team, just for the supporters," said Tommy Smyth, an ESPN soccer commentator who called the MetroStars' games for the first six seasons. "They were really intense. They were really loyal."
Indeed, the hard core of fans sometimes displays more endurance than their team. At a recent match against the Chivas USA, the uninspired Red Bulls conceded a goal in the 86th minute to go down 2-0. "We're shit, and we know we are!" one shirtless fan-club member began chanting, to the tune of "Go West" (by the Village People and later, more famously, by the Pet Shop Boys).
Soon after, a missed shot in the box by unmarked striker Jozy Altidore prompted several fans to turn their backs to the game.
"We can sing, or we can all get fucked up and then thrown out for acting like assholes!" yelled Mr. Jamison, as 17 security guards surrounded the agitated group.
"I'll sing for them when they show us some fucking heart!" cried a detractor.
Relations between the team and the supporters club have been strained, at times, by the determination of some of the fans to act out symptoms of what's known in Europe as "The English Disease."
"I got arrested last week; shit, I don't even know if I can get in," said 18-year-old Daniel, wearing purple Doc Martins and a tight maroon polo tucked into jeans at a tailgate session in the parking lot before the game against D.C.
He explained that he "fucking clocked" three people at the previous home game, but that the charges were later dropped. He made it into the stadium by game time.
Officially, the Red Bulls organization loves the E.S.C.—its most unshakable source of support. In an e-mailed statement, head coach Bruce Arena said, "[B]efore the game going out of the tunnel you can hear their chanting and singing and certainly after the game it is nice to have them there, especially after a win. We are grateful to always have them in the same location supporting us throughout the match."
But the fans' devotion to team isn't always matched by their feelings towards the coach—whose silent and sedentary game-day coaching style has been mocked by Section 101—or the individual players.
"Most of the time our players are dicks," said Peter Paczynski, a 26-year-old Polish-born supporter from Queens who has been with the E.S.C. since 1997. One of the most ardent Red Bulls fans, he's traveled to away games in nine different MLS stadiums and exchanged cellphone numbers with former player and general manager Alexi Lalas.
Mr. Paczynski recalled an encounter with Red Bulls defender Chris Leitch at an away game in San Jose in 2003.
"I traveled to fucking San Jose from New York with 80 pounds of banners," he said.
Mr. Paczynski spotted Mr. Leitch by the team bus after the match, which the MetroStars lost 3-1.
"I'm like, 'Dude, you lost—I lost, too,'" he recalled. "'I'm upset, too, but come on, appreciate us.' And he's like, 'Fuck you guys!' And I was like, 'You know what, fuck you!'"
Mr. Paczynski and Mr. Leitch later made up.
"The day that he got traded to Columbus I met with him at a bar, and we were so drunk; he was like, 'Dude, I'm sorry,'" Mr. Paczynski said. Mr. Leitch is now back on the Red Bulls, "and ever since, he's always cheered for us."
These supporters may have reason to hope for an improvement in their circumstances. For one thing, the team is planning a move to a 25,000-seat soccer-only stadium in Harrison, N.J., which will at least remedy the indignity of having to watch games in a near-empty, artificial-turf–laid American football facility.
More immediately, the league has created an unprecedented amount of attention by importing David Beckham from Real Madrid. Already, more than 50,000 tickets have been sold for his upcoming appearance at Giants Stadium on Aug. 18.
If, on that momentous day, the Red Bulls disappoint, lots of fans will grab their keys and head to the parking lot before the final whistle. And when they do, the members of the Empire Supporters Club will stand and sing as they've done countless nights before:
"We're not leaving, we're not leaving, we're not leaving over here! We're not le-av-ing over here!"