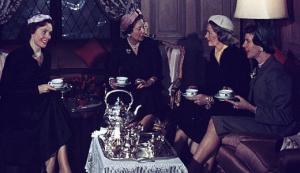 Brooke Astor, the great philanthropist and 105-year hold-out among a dying breed of old New York socialites, died at her Briarcliff Manor estate yesterday afternoon.
And today, New York's newspapers alternately feted her and dug into the recent family discord that has put her name in the tabloids in recent years in a way she had always been able to avoid in her heyday.
The New York Sun's Stephen Miller writes that Ms. Astor's "glamour, wealth, savvy, conscience, and patrician grace created in her a kind of perfect storm of philanthropy." He tells the story of Ms. Astor's life in brief, and quotes New York Public Library president Paul LeClerc saying that it was "glamorous and important to support what Brooke was supporting."
The Sun had already dug deeply into her life in a three-part feature published last summer–and the newspaper resurrected that coverage along with a characteristically impassioned editorial on its Web site today.
"In an age in which the rich are all too often vilified, Brooke Astor was a reminder of the uses to which a great fortune can be put and of how great wealth need not prevent a person from winning the affection, admiration, and respect of New Yorkers from all backgrounds," the editorial read. "It is a great New York story, and a great American story."
Writing in the Times, meanwhile, James Barron quotes public-relations executive Catherine Saxton, who wonders whether Ms. Astor was "the last of the great dames."
"It was like she represented all the best of the golden age of society in New York," Saxton tells Barron. "There was never any doubt on her qualifications of being a triple-A lister: grace, charm, breeding and people loved her. She had a real presence, even at the end when she was getting very frail."
In addition to Barron's news piece, the Times also runs a proper obituary by Marilyn Berger. Ms. Berger calls Astor "the last bridge to the Gilded Age," before conjuring a portrait through archival quotes and impressionistically arranged details of her social life ("At night – almost every night, even into her 90s – she could be found surrounded by crystal and caviar, done up in her designer dresses and jewels, seated to the right of the host. (She was always seated to the right of the host.)")
Meanwhile, The Daily News reports some unseemly discrepancies in reports of Ms. Astor's final moments, with her son Anthony Marshall claiming she died in his arms while an anonymous source denies to the newspaper that there was anyone in the room except her staff and her nurses.
The New York Post starts with warm quotes from friends and family, then predicts that her son and her grandson—whose bitter showdown over Ms. Astor made headlines last year—will soon snap out of the peaceful grief in which they are currently united and reignite the family feud.
The Post also cites an anonymous source with info about Ms. Astor's will: her friend Annette De la Renta was left "four paintings of dogs," David Rockefeller got "a stone Buddha head sculpture," and her daughter-in-law Charlene got a diamond necklace, and two fur coats.
Perhaps the most surprising and longest tribute was in Women's Wear Daily. Every point of her biography is covered, and there is more from Astor's friends and associates than anywhere else.
The best come from Henry Kissinger and John B. Fairchild, the former editorial director and chairman of Fairchild Publications: "She was the biggest flirt I ever knew — even in old age," he tells the magazine. Mr. Fairchild remembers "once having dinner in a restaurant where she was having dinner with Freddie Melhado and a group of other men and I said to her, 'What are you doing with all those old men?' And she shot back, 'Show me the pictures of the young ones.'"
(Editor's note: Look for more on Brooke Astor in tomorrow's editions of The New York Observer.)