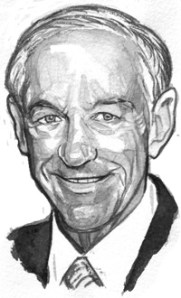 When he deigned last month to include Ron Paul in his Sunday morning show, ABC's George Stephanopoulos told the Republican presidential candidate that he'd bet every last cent that Dr. Paul won't end up in the White House.
He's right, of course.
But that doesn't mean that the 71-year-old congressman from Texas isn't a surprising force in the 2008 race. He commands far more attention—from the media and from his opponents—than his low standing in the polls seems to warrant, has amassed an ideology-defying army of true believers through the Internet, and actually outraised some of his more seriously regarded G.O.P. foes in the most recent reporting period.
For now, Dr. Paul is mired in also-ran territory in national and early-state polls, indistinguishable from, say, Duncan Hunter, another congressman waging a seemingly futile bid. But Mr. Hunter peddles a safe (for a Republican), generic campaign message, one that won't offend any crucial Republican constituencies but that also prevents him from building any measurable momentum. Dr. Paul, on the other hand, preaches a unique gospel of Constitution-based conservatism—and it's getting him noticed.
In part, he can thank the front-runners for this. Rudy Giuliani, who was suffering from a sloppy national debut, jolted his campaign back to life in a May G.O.P. debate when he jumped on Dr. Paul's assertion that the "blowback" from some U.S. foreign policy manifested itself in the 9/11 attacks.
But Mr. Giuliani's sharp words also amplified Dr. Paul's message. Ignored by major media outlets before that moment, Dr. Paul was within days making the national television rounds, including his sit-down with Mr. Stephanopoulos. That exposure has connected Dr. Paul to a significant sliver of the Republican Party—disgruntled and dejected adherents to the G.O.P.'s traditional, pre-Bush nonintervention consensus. And it awakened a funky, cross-ideological coalition of political outcasts stirred by the focus-group-be-damned purity of Dr. Paul's style. From a paltry $600,000 in the first three months of the year, Dr. Paul's fund-raising quadrupled to $2.4 million in the next three months, and at the end of last month, he had more money in the bank than John McCain.
The win-win fallout from the Giuliani-Paul squabble makes future episodes more likely, keeping Dr. Paul in the spotlight as the primaries approach. Mitt Romney, for instance, practically drooled all over the stage in a debate last weekend as he attempted to interrupt Dr. Paul's antiwar soliloquy and create his own Rudy moment. It should go without saying that you won't see Rudy or Mitt taking swipes at Mr. Hunter.
There is, of course, a ceiling to Dr. Paul's potential.
For example, a poll of Iowa Republicans just over a month ago found that nearly 60 percent favored an almost immediate withdrawal of U.S. troops from Iraq—a position much closer to Dr. Paul's "bring them home" exhortations than it is to any of the other nine (ten counting Fred Thompson) G.O.P. candidates.
And yet most of those voters are probably off-limits to the Texan. This is partly because his rhetoric on Iraq—and the way his fellow G.O.P. rivals respond to it—gives loyal Republicans, even those with misgivings about the war, the impression that Dr. Paul is hostile to their president and their party. More broadly, though, most Republicans simply dismiss him (and his supporters) as a fringe presence in the primaries. He is, to them, an odd proponent of an Ayn Rand philosophy that is fascinating in a college classroom but impractical in modern national politics.
Still, the universe of Republican voters in Iowa and New Hampshire is small and reachable for a candidate like Dr. Paul, and the field is so crowded that a relatively small number of votes can make a big impact.
Success in Iowa's caucuses depends on the devotion of a candidate's supporters and the ability of that candidate's campaign organization to identify those supporters and to deliver them to caucus sites. The army that Dr. Paul is building seems a good match for Iowa, especially if heavy interest in the Democratic caucuses reduces G.O.P. turnout. It's worth noting that Alan Keyes, with no money, no organization and an equally fringe-y reputation, won 14 percent in Iowa in 2000.
And if there's one state in particular where Dr. Paul's IRS-phobic libertarianism should resonate, it's Live-Free-Or-Die New Hampshire. In general elections, New Hampshire is rapidly moving to the left, but the G.O.P. primary electorate—which will include a heavy dose of conservative-minded independents—is a different story, and Dr. Paul is on pace to have enough money for a credible television campaign in the state.
Yes, the Stephanopoulos fortune will be safe. But it will be a while before we've heard the last of Ron Paul.