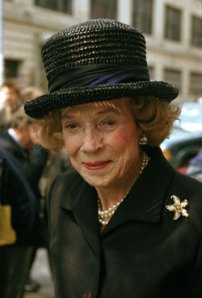 On the afternoon of Friday, Aug. 17, eight Marine Corpsmen carried Brooke Astor's gleaming wooden coffin up the gothic nave of Saint Thomas Church Fifth Avenue In The City Of New York, at the corner of 53rd Street, and rested it before the altar.
Ms. Astor, the philanthropist and socialite, died on Monday, Aug. 13 at her home in Briarcliff Manor, N.Y. She was 105.
After the church choir sang several anthems, the rector read his welcome, the crowd of mourners, which consisted of some 500 people dressed mostly in black—in an apparent homage to the late Mrs. Vincent Astor many of the women wore elegant, wide-brimmed hats—sang hymns and listened as two lessons were read.
"She saw history from a perspective that few of us can share," said Mayor Michael Bloomberg in his tribute to Ms. Astor. "She had a wonderful life and, as she wanted us to know, she also had a long one, and during that long life the world around her was transformed."
"She rowed those tides of change with a sure sense of style and an unshakable commitment to what was entirely decent, thoughtful and generous," Mr. Bloomberg continued, before comparing her to another of New York's recently departed giants, Yankees shortstop Phil Rizzuto.
She was a "blue-blooded lady" who, he said, "also looked good in pinstripes."
"Now that I'm mayor," said the mayor who himself was no mean philanthropist before entering City Hall, "everywhere I go I see the results of her work and generosity."
Though it was not listed in the funerary pamphlet, the mayor's remarks were followed by a short address by Ms. Astor's close friend, David Rockefeller, who knew her "for five memorable decades."
"Our friend Brooke is truly irreplaceable," Mr. Rockefeller lamented with a somewhat shaky voice to the gathered crowd. "She treated each and every person she met with warmth and respect. Wherever she went, she was always beautifully dressed, always with pretty hats."
Ms. Astor "was our one and only leading lady…I will miss Brooke a great deal, as long as I live," he said.
Mr. Rockefeller's remarks were followed with no public awkwardness by those of Anthony D. Marshall, Astor's only child. Mr. Rockefeller and many of Astor's other friends have famously been at odds with Mr. Marshall over the terms of her will and her care at the end of her life.
Mr. Marshall climbed the steps to the lectern, and before reading his mother's prepared Declaration of Faith, remarked on their similarities, touching on their only-child-status, love of nature and similar senses of humor.
"When I go from here, I want to leave behind me the world richer for the experience of me," he read from her declaration. "I want to store up riches in the wind and to leave blessings traveling upward to the stars. I want to leave my roots in the grass. I want the tears that I have shed for the sake of high love to come again as dew," wrote Ms. Astor, whose poems were published in Tina Brown's New Yorker.
Fighting back tears, he said: "Yes, New York and her many friends have lost a wonderful person, but I have lost my mother."
Then he descended the lectern steps, visibly but quietly weeping.
Another hymn was sung and homily was delivered by the Reverend Canon John Andrew. Speaking of her "ready heart" and overwhelming generosity, Mr. Andrew remembered a time when the doyenne of Manhattan "monopolized" the St. Thomas' boys choristers, who "had walked in a line down Fifth Avenue in order to sing for the generous and the glitterati" at Tiffany's, which was that evening hosting a benefit dinner in the store.
He also spoke about the time Ms. Astor was "taken by a giant Afro-American janitor at the Metropolitan Museum into his arms in a loving embrace as she got out of her car." Finishing the address, Mr. Andrew exclaimed: "Until we meet again!"
The service ended with the final bidding, the Lord's Prayer, a hymn and the commendation; then the eight Marines, led by a solitary bagpiper, carried the coffin down the aisle and into the street, where hundreds of onlookers had gathered on the sidewalks under threatening skies to bid farewell.