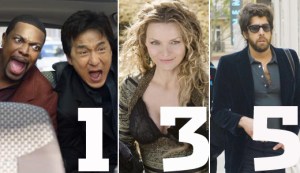 A flop 6 years in the making, Rush Hour 3 was almost beaten out at the New York City box office this weekend by Bourne Ultimatum riding high on fantastic word of mouth.
The rest of the country, however, was not as wary. The movie did decent nationally, accruing $50 million at 3,778 theaters. Chris Tucker has made three movies in the last 10 years. (Can you guess what they were?) He held out and reportedly got a $20 million paycheck against 20 percent. I don't know exactly what that means in terms of Mr. Tucker's bank statements, but it certainly makes him one the smartest men in Hollywood.
Stardust recouped 12.8 percent of its reported $70 million budget over the weekend. The movie did better in New York than its paltry $3,500 national average would suggest, but that is little consolation for the production executive at Paramount would greenlit this clunker. (Conversely, Michelle Pfeffeir's agent deserves an Oscar—or an Ari, as in Ari Gold—for persevering despite what must have felt like an almost Sisyphean effort to find the actress work.)
Described as Annie Hall, but not funny, 2 Days in Paris was almost assured a strong opening here in the city. And it delieved, averaging an unbelievable $43,000 on 2 screens, edging out last week's surprise contender El Cantante with a little over $86,000 in total box office here. (One wonders what could have been though, if the Domincan Day Parade hadn't cut into J. Lo's receipts on Sunday …)
Becoming Jane doubled its theaters, but didn't come close to doubling its cash, managing only a 3.65 percent increase in box office, while its per screen average dipped ominously beneath $10,000. I'm gonna go out on a limb and say the film needed more sex. Just kidding! I love literature.
And the winner of this week's straight-to-Netflix queue award is Rocket Science, which failed to break into our top ten, and appeared to fizzle nationally. Alas, Sundance raised the hopes of another progenitor of a coming-of-age, nerd to glory, story. Damn you, Sundance! Fie!
Manhattan Weekend Box Office: How moviegoers in the multiplexes of middle America choose to spend their ten-spot is probably a big deal in Hollywood. But here in Manhattan, the hottest movies aren't always the ones making the big bucks nationwide. Using Nielsen numbers for Manhattan theaters alone and comparing them to the performance of the national weekend box office can tell you a lot about our Blue State sensibilities. Or nothing at all! Each Monday afternoon, we will bring you the results.