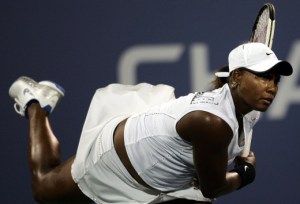 Ahsha Rolle, the 109th-ranked 22-year-old from Florida, has moved into the third round. After her upset victory against Tatiana Golovin in the first round, she pounded the pavement with her firsts. After her win last night against Karin Knapp, she threw herself to the ground, Andre Agassi-style.
She thinks about these sort of things.
"I had a match point where I had the easy volley and I missed it," she said last night. "I think I missed it because I was thinking about what I was going to do when I won. Was I going to fall? Was I going to jump in the air?"
She fell.
Next up: Dinara Safina.
Your predictions are welcome. (Extra points if you can guess what she does when the match is over.)