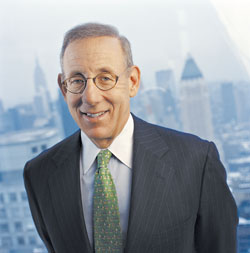 Even by the standards of the roaring 80's, the Zeckendorfs looked a little crazy for building the World Wide Plaza, a 1.7-million-square-foot tower, on Eighth Avenue. What reputable New York firm would ever move that far west? I mean, by, like, the porn shops?
Well, the white-shoe law firm Cravath, Swaine and Moore took the leap of faith in 1989 and two decades later their risk, like the Zeckendorfs', paid off. Now the likes of Douglas Durst and Jerry Speyer are banging each other over the head for the chance to build a $1 billion complex in the West 30's and 40's (credit crunch, what?).
And now, here comes the Eighth Avenue boom crashing through the Theater District, with Stephen Ross' Related Companies giddily leading the caravan.
Back in January, Related acquired 732 Eighth Avenue, a quaint four-story building known as the Playwrights Tavern, for $1.71 million, according to city records.
The purchase looked suspiciously small for a company that is used to shelling out hundreds of millions of dollars for Manhattan behemoths like the Time Warner Center. On the deed, the "Y" in the air rights box signaled that Related intends to build upward.
It now looks like those plans are taking shape. Last week, Related issued a declaration of development rights for its new property, an even more telling sign that something is afoot.
The other property that it purchased that would likely be included in a development is 259-263 West 45th Street, which it bought for $15.25 million last May. That property totals in at 11,428 square feet, so if shelling out more than $1,000 a square foot for an unremarkable little building isn't a hint of a major development, we don't know what is. Additionally, Related took out a $23.8 million mortgage for 259-263 West 45th Street and 738 Eighth Avenue, according to city records.
Last year, real estate executive-cum-columnist Michael Stoler wrote in The New York Sun that a "major residential tower is expected" in the area, with Related, along with Mort Zuckerman's Boston Properties, leading the way. Mr. Zuckerman was nowhere to be found in city records on these buys, but he could still, of course, be a major investor in the project.
(Oh, and theater people! There might be a tower looming over the after-hours bars, including nearby Bar Centrale on 46th Street).
A spokeswoman from Related, Joanna Rose, declined to comment on the upcoming project, saying that "there is nothing to say at this moment." Phone calls to Bryan Cho, an executive in the acquisition department at Related, whose name is peppered throughout city deeds, went unreturned.
Of course, the Related project is just one of a handful planned for the area.
Last month, The Observer reported that Tishman Construction—not to be confused with Jerry Speyer's office giant, Tishman Speyer—bought five properties totaling 30,000 square feet of land for $128 million, under the name West 44th Street Hotel LLC, a strong hint that the development company is planning for a hotel right in the hood.
Of course, two blocks south of that, projects are everywhere. There's the new SJP tower, 11 Times Square, which is going up directly next to the new Times building off 42nd and Eighth Avenue.
Directly across the street, the Port Authority has announced it wants either Vornado, or another rival developer, to build a skyscraper atop the bus terminal on 42nd Street.