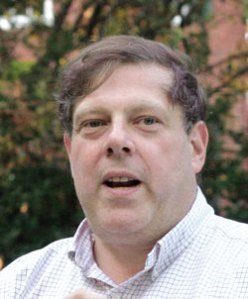 In the hands of longtime Clinton strategist Mark Penn, a poll is a deadly weapon. Following the commencement of hostilities between Barack Obama and Hillary Clinton over the Illinois senator's comment that he would enter into talks with rogue foreign leaders, for example, Mr. Penn quickly settled on the explanation that Mr. Obama was desperate.
"Gosh, you would really need to do a lot of groundwork before you would agree to meet with somebody like Ahmadinejad, who has even denied the Holocaust," Mr. Penn said in a voice so soft that his barb almost seemed sweet.
Mr. Obama's campaign, he said, had revealed "some level of desperation about not having moved in the polls. And frankly a lot of people have given them the advice 'oh, just go ahead and get her.' And so he'll see whether or not that is more successful than going forward with his policy ideas and the new politics, which is where he started."
For more than a decade now, Mr. Penn, 53, has functioned as the Clintons' left hemisphere, drafting and interpreting meticulous and incessant surveys to furnish them, along with his other clients, with the market-tested language and policies to get them into power—and keep them there.
In the words of Doug Schoen, his polling partner for more than 30 years in the firm Penn, Schoen & Berland Associates, "Mark is somebody who is very, very comfortable with quantification. He is very comfortable with numbers and very comfortable to be able to see things in black and white."
One gets the impression, talking to Mr. Penn, that he'd be happy enough dealing with data and nothing else.
"I don't like campaigns," said Mr. Penn in a recent interview, slumped back on a white couch in his office, fidgeting with his glasses and keeping his BlackBerry at finger's length. "No one should like campaigns. I love the work of figuring out what people are thinking. And I love the application of that."
And yet, since even before the official launch of Mrs. Clinton's presidential campaign, Mr. Penn has seemingly been everywhere, running strategy meetings and churning out polls while becoming the cherubic public face of the most intimidating campaign going. He's a fixture in post-debate spin rooms, mixing it up with his counterparts in Harvard forums and tirelessly making the case for Mrs. Clinton's electability in newspaper editorials.
The inevitable end-of-summer surge in public attention to the presidential campaign will also coincide neatly with the September release of Mr. Penn's book, Microtrends, a Tipping Point-style collection of essays about small-but-influential demographic groups he thinks could change society.