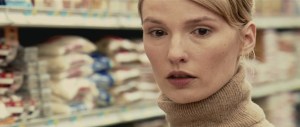 LAURA SMILES
Running time 98 minutes
Written and directedBy Jason Rusico
Starring Petra Wright, Kip Pardue, Mark Derwin, Ted Hartley
Jason Ruscio's Laura Smiles, from his own screenplay, plays out like a vintage Antonioni film in its depiction of its title character, Laura (Petra Wright) during two stages of her existence, nine years apart. In the first section, Laura is an aspiring actress in New York City, and has fallen in love with an aspiring novelist, Chris (Kip Pardue). After they have decided to get married, Laura is standing nearby at a newsstand when Chris, trying to hail a cab, is run over by a small truck and instantly killed.
The film flashes-forward nine years, into the midst of Laura's seemingly comfortable suburban marriage with Mark (Mark Derwin), a handsome insurance salesman, perhaps over-endowed with a lively sense of humor, which Laura tolerates with a wan smile of unenthusiastic acceptance. It is the same smile she flashes at her psychotherapist (Ted Hartley) when he asks her the simplest questions she is unable to answer, like why she thinks she is unhappy.
Mr. Ruscio never explores Laura's character in any logical or dramatic sequence. Instead he almost backs into Laura's reckless promiscuity through a series of memory clues. Laura's affair with her husband's best friend, Paul (Jonathan Silverman), a recent widower, triggers the final catastrophe. Even then, Mr. Ruscio's evasive camera styles keep the viewer off balance so that very little emotion is generated despite the grief-inducing events in the narrative.
Nevertheless, the major difference between Laura Smiles and the once problematic exercises in eccentricity by Bergman and Antonioni is that the latter did not veer into the uncharted realms of psychotic behavior, of which the ominously smiling Laura is the latest exemplar in the contemporary independent cinema. Even so, Ms. Wright and all her acting colleagues provide very persuasive performances amid the shifting perspectives of Mr. Ruscio's convoluted storytelling.