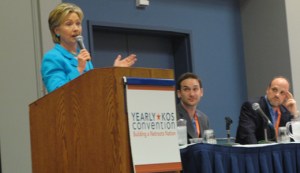 Hillary Clinton may be the best-established of the Democratic presidential candidates. But put her in a room with a bunch of nonconformist bloggers and liberal activists with handles like "OrangeClouds115" and "Cojazz," and she's a rank outsider.
It's not a position she enjoys.
"You know, I've been waiting for this," Mrs. Clinton said when some members of the restless audience jeered her defense of Washington lobbyists at this weekend's YearlyKos convention. "This gives us a real sense of reality of my being here."
What Mrs. Clinton's uncharacteristic outburst during the Aug. 4 Democratic debate in Chicago revealed—or more accurately, reinforced—is that she is very much the Democratic Party's establishment candidate.
Her closest rival, Barack Obama, says "turn the page" more than an English tutor, and John Edwards rarely gets through a sentence without throwing red meat to the mostly young, mostly pissed-off liberal blogosphere by shouting something about "big change."
Not that Mrs. Clinton, who holds a commanding position among more traditional Democratic voters, is quite ready to cede any turf.
In June 2006, she took the conspicuous step of hiring a popular blogger, Peter Daou, to work for her campaign. More recently, she dispatched crack spokesman Howard Wolfson to appear on conservative pundit Bill O'Reilly's show on Fox News to defend blogger (and convention namesake) Markos Moulitsas against charges of extremism.
In a talk with convention-goers before the debate, Mrs. Clinton was effusive in her admiration for a group she embraced as progressive fellow travelers. "I'm going to start by saying something a little unexpected, and that is 'thank you,'" Mrs. Clinton said to a room full of about 270 people on Saturday. She said that the critical nature of many blogs "makes those who run for and hold office a little sharper."
Mrs. Clinton used the specters of the Bush administration and Mr. O'Reilly (many convention-goers wore "Annoy O'Reilly" buttons) as a rallying point. She gave long, intricate answers to questions about education and welfare, effectively staving off more prickly questions from the firmly antiwar crowd about her belated support of deadlines for troop withdrawal. She said that the liberal blogs were just the right antidote to the "vast right-wing conspiracy."
Judging from the applause and generally warm reception—"I love your hair, by the way," said one questioner—Mrs. Clinton did well.
But as Mrs. Clinton's debate performance showed, her diplomacy towards the Net-based portion of the party only goes so far. Even as the conventioneers bemoaned the "gatekeepers" in the slothful and cowardly press—panel discussions included "Blogs and the MSM: From Clash to Civilization," and "Blogs and Journalism: The New News?"—Mrs. Clinton seemed to make it clear that her feelings toward the new media are about as warm as her feelings toward the old.
And the sentiment is clearly mutual.
But even before Saturday's debate, it was also clear walking around the halls of the vast McCormick Place Convention Center that this wasn't exactly Mrs. Clinton's crowd.