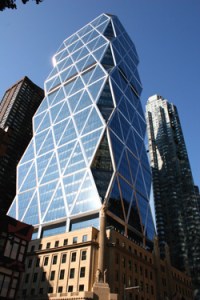 Over the past several months, the Hearst Corporation has been quietly bundling up buildings south of Columbus Circle and selling others to major developers like Mort Zuckerman.
In July, the publishing giant purchased a 21,000-square-foot apartment building at 811 Ninth Avenue for $17.1 million. In June, it purchased a four-story building across the street for $4.9 million at 828 Ninth Avenue. In May, it purchased an 8,100-square-foot building at 304 West 56th Street, a block from its skyscraper headquarters, for $7.6 million. All the buildings are blocks from the headquarters, which opened last year.
What's clear is that Hearst wants these buildings and wants them very badly. Beyond the fact that they're overpaying—$1,000 per foot is the going rate for office towers, not Hell's Kitchen apartment buildings—they're also aggressively pursuing them.
The former owner of the 36-unit rental at 811 Ninth Avenue, David Grossman, told The Observer that he was approached by brokers from CB Richard Ellis to sell the building. (Hearst is represented by CBRE brokers Darcy Stacom and Bill Shanahan.)
The sale also went to contract and closed with absurdly fast speed—on the same day, July 19, according to city records.
The reason that happened, or why Hearst bought 811 in the first place, wasn't so clear. Mr. Grossman speculated that it was so Hearst could get a tax break from a 1031 exchange (Hearst had recently sold some buildings). But he also added that Hearst never explained its plans.
In any event, a spokesman for Hearst said the company didn't buy the buildings so it could develop another tower, like the diamond-windowed skyscraper on Eighth Avenue between 56th and 57th streets.
"Our intent is to hold onto these properties," said Paul Luthringer, the spokesman. "We have no plans to develop them at this time."
But take a look at Hearst's other recent sales and perhaps that's a hint for what it's planning.
Back in January, Hearst closed on a $160 million sale of several buildings along Eighth Avenue and 55th street. The buildings, purchased by Madison Equities and Mort Zuckerman's Boston Properties, is now a planned site for an 850,000-square-foot office tower.
There were seven parcels of land sold in that purchase, which is a site that Ms. Stacom told The New York Post took years to pull together.
"I was pregnant with my first child, and that was 13 years ago," Ms. Stacom said when describing how it all began.
Mr. Shanahan described it another way. "It was a real game of Monopoly," he told the Post.
One wonders: Are Ms. Stacom and Mr. Shanahan beginning to pull together another potential development site south of Columbus Circle that could later be sold?
Both Ms. Stacom and Mr. Shanahan would not comment. Ronald Doerfler, the C.F.O. of Hearst, didn't return a call for comment.