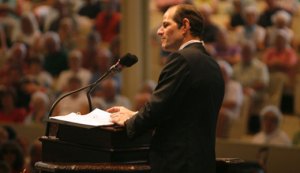 As Eliot Spitzer continues to get pummeled on a daily basis by State Senate Republicans over an ethics controversy involving his aides, the state Democratic Party has finally come up with a coordinated response:
It's just like Whitewater.
"I think you saw in the 90's a sort of never-ending investigation of Bill Clinton, and it created a widespread national consensus in support of Bill Clinton, and people who were bringing these charges get tossed out of power," said Democratic consultant Jonathan Rosen, who was recently hired by the state Democratic Party. "And I think we learned a lesson about pushing back."
Mr. Spitzer's responses, so far, have done little to quell the scandal story line, which blew up in July after a report from the state attorney general found that some of the governor's aides had improperly used the state police to keep tabs on Senate Majority Leader Joe Bruno, a bitter rival to the governor. Also made public was the fact that over the course of the attorney general's investigation, Mr. Spitzer's office did not compel aides involved with the scheme to answer questions, and did not turn over relevant correspondence that was sent by aides using personal e-mail addresses.
After the governor's subsequent decision to suspend one aide and transfer another failed to stem the tide of questions, Mr. Spitzer tried conducting a business-as-usual bill-signing ceremony in the Capitol, which fell apart when reporters—led by the New York Post's Fred Dicker—began shouting their unanswered questions at the governor.
A subsequent, apologetic Op-Ed written by Mr. Spitzer in The New York Times on July 29 only created more stories, as did a quasi-confessional interview with Times reporter Patrick Healy and a more recent speech in western New York on Aug. 7 saying that "humility" was needed in politics.
In those crucial, terrible days for Mr. Spitzer, few Democrats around the state stepped forward to defend him.
The latest strategy—an attempt, essentially, to foment a backlash against the politically driven pursuit by a desperate, narrow Republican majority of an ostensibly popular Democratic governor—represents something of a tactical shift.
It was unveiled, more or less officially, on Aug. 10, when state Democratic Party co-chair Dave Pollak issued a statement saying the hearings were "Act One of Saving Joe Bruno's Majority, coming to theatres near you in November, 2008."
On Aug. 13, Representative Carolyn Maloney, who was in Congress during Whitewater, said in a public statement that Republicans in Albany should "let the professionals do the investigating."
And most dramatically, on Aug. 14, The New York Sun ran an opinion piece by Representative Jerry Nadler, a congressman from the West Side who was transformed into a national defender of the Constitution during Whitewater.
"I watched, up close, as Washington became caught up in the scandal that provided ammunition to Congressional Republicans, who used it to bring the Capital to a standstill," Mr. Nadler wrote.
"Mr. Bruno's charade is a transparent one, clearly recognizable as the partisan witch hunt that it is. There is little doubt that if the Republicans continue down this path, they will be revealed as the most overly politicized force in this state."