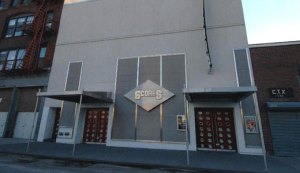 Upscale Manhattan strip club Scores West has been known to attract many controversial customers over the years, most notably silver-tongued radio shock jock Howard Stern and booze-embattled actress-in-distress Lindsay Lohan.
According to the nightclub's attorney, the Chelsea hotspot was also once a regular hangout for a perhaps more polarizing patron: NYPD officer Michael Oliver.
Mr. Oliver, who's presently facing manslaughter charges, is more often associated with the Kalua Cabaret, a somewhat less swanky topless bar in Queens, where, prosecutors say, he fired 31 shots of the reported 50-bullet barrage that tragically capped off would-be groom Sean Bell's bachelor party last fall.
Mr. Oliver's reputation at Scores West may not have been as brutal, although he allegedly "demanded certain favors" and also "indicated that anybody that was with him was to be given these favors," the club's lawyer, Martin Mehler, has claimed in court papers.
Name-dropping the police department's latest persona non grata appears to be part of Scores' stripper defense counsel's accuse-the-accusers strategy: "We believe that over the past year undercover police officers of the vice squad have intimidated my client and have demanded that they be given, actually, full access to the premises without having to have to pay for any of the services that they participate in within Scores," Mr. Mehler has said.
Exactly what favors and services the lawyer hasn't said. Considering that this is the same police department that slapped four of the club's dancers and two of its managers with prostitution charges this past January, one can safely assume that he's not talking about the $25 souvenir key chains with the Scores logo.
The wild accusations have come off almost as quickly as the clothing, with undercover officers reportedly revealing lurid courtroom tales of male patrons with pants around their ankles partying privately in dark back rooms attended by fully nude female entertainers. (NYPD declined to comment on the ongoing proceedings.)
Tensions have run so high in the wake of the cops' highly publicized Jan. 25 raid on the place that the State Liquor Authority (S.L.A.) decided to relocate its usually dull administrative proceedings to a more "secure location" after a heated hearing in April at the authority's Harlem headquarters erupted in a melee.
An undercover cop on the witness stand, barely one minute into telling his account, claimed that he "heard a click" and alleged that somebody from the Scores camp may have snapped a cover-blowing picture of him, according to a transcript. That "click" set off a series of events that Mr. Mehler, frustrated by a judge's repeated refusal to allow Scores dancers to face their covert accusers, has described as "two hours of chaos," with cops confronting Scores attorneys, Scores owners fleeing the scene and Scores supporters allegedly "being held hostage."
"Witnesses were threatened with arrest and were harassed and abused by the police," according to an affidavit. "Cameras and a cell phone documenting the abuse that occurred in the hallway of the Premises were taken by police officers and the pictures were erased."
Scores manager Harvey Osher reportedly ended up in the hospital after the dust-up (and his bed-ridden picture in the New York Post), though his purported injuries later proved only minor.
The two sides are scheduled to tangle again on Aug. 29 in Manhattan Civil Court.