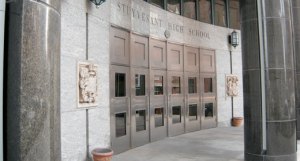 A CLASS APART: PRODIGIES, PRESSURE AND PASSION INSIDE ONE OF AMERICA'S BEST HIGH SCHOOLS
By Alec Klein
Simon & Schuster, 323 pages, $25
Every fall, 20,000-plus eighth graders with cowlicks or ponytails and an abnormal share of pocket protectors take the most important test of their lives—the Stuyvesant exam. Nothing else matters in competition for the toughest high school ticket in New York. Not grades, not essays, not legacy. You hit the cutoff, you're in; one point below, forget it. Compared to this test, the stakes involved in the SAT's that the students will take three years later seem penny ante. For those with financial resources, admission to Stuyvesant is merely a $120,000 savings over the cost of a private school. But for the majority, for whom private school is not an option, it's the difference between the best education in the world and being thrown into the maw of the Board of Education.
Of those who take the test—and though a few may be entirely deluded, most are appropriately self-selected youngsters who have reason to believe that they have a chance—about 3 percent are admitted. So yes: Stuyvesant is harder to get into than Harvard; to be precise, three times as hard. Stuyvesant's students are, as journalist and author Alec Klein says, "a class apart."
Mr. Klein, himself a 1985 Stuyvesant grad, returned to his alma mater to chronicle a year in the life of the school, the faculty and the students. I have no idea whether Mr. Klein looks his age, but he wisely did not attempt to fool anyone by pretending he was a high-school student. He just hung out—though his style of clothing evolved, as did his vocabulary and musical taste.
The 2005-2006 academic year offered the usual milestones on Chambers Street: elections, prom, a football season for the traditionally miserable Peglegs (doomed, perhaps, by being named after the wooden-footed colonial governor of New Amsterdam) and SING!, an annual competition between the grades. In SING!, the students write skits, design and build sets, dance and, of course, sing their hearts out in a gala as glorious as any Broadway opening (though if the seniors don't win, it's a shandeh).
Mr. Klein's chosen year also provided debates about the appropriateness of time cards for teachers and scanners that would register students' entries and exits from the building. There was a sensationalist cover story in New York magazine about the "Cuddle Puddle" ménage of sexually ambiguous teenagers at Stuy, and also the horrendous death of two students in a car accident.
Mr. Klein follows a number of individuals through the year. There's Romeo, a half-French, half-African-American football player and math whiz; Mariya, a Ukrainian immigrant whose mother grounds her when her G.P.A. falls to 93.50 (yes, they do calculate down to the second decimal); and Jane, a heroin addict who says, "Self-destruction is really fun."
Among the adults, Mr. Klein's (and this reviewer's) favorites are clearly the mavericks. There's Eric Grossman, beloved English teacher who teaches Nabokov's Pale Fire with the incandescence of Harold Bloom and is the only one to almost get through to Jane by saying, "The world's a much happier place for me with a little freak like you in it"; and Matthew Polazzo whose "existential wanderings" roam from Alexander the Great to the "chemical synthesis of desire" to thoughts about an afterlife ("I'd love to see my dog"). Yet Mr. Grossman wrestles with budget cuts that may force him to fire several members of his staff, and Mr. Polazzo may not be reappointed to his treasured and thankless job as coordinator of student activities.
Above all there's Daniel Jaye, assistant principal and head of the math department. He allows Milo Beckman, a fifth-grade prodigy, to attend classes taught by Mr. Siwanowicz, a slightly older version of Milo. Mr. Siwanowicz dropped out of City College with a 1.6 G.P.A. after he won a Putnam Fellowship awarded to "the top five undergraduate mathematicians in North America." In other words, "a student who doesn't belong is being taught by a teacher who's not supposed to teach." Yet Mr. Jaye, who aspires to Stuyvesant's principalship after 34 years of service, is tempted by the offer of a better-paid job in New Jersey because Stanley Teitel, the tenacious current occupant of the office, refuses to retire.
Mr. Teitel is the Ahab of the book, a gaunt, bearded figure, obsessed with the excellence of the school. Mr. Klein is kind to Mr. Teitel—too kind. The principal invariably comes down on the side of authority and refuses to acknowledge that Stuyvesant is no longer a purely technical bastion. As the jewel of the city system, it now appeals as much to the witty young editors of the school's humor mag, The Broken Escalator, as to any of its vaunted "mathletes."
The advantage of Mr. Klein's September-to-June tempo is that it has its own intrinsic drama. Will Mr. Jaye succumb to temptation? Will Mr. Polazzo be reappointed? Will Romeo get into Harvard? Will Jane conquer her demons? Some questions are answered, some not. Some endings are happy, some not.
Occasionally, Mr. Klein gets a tad windy when discussing Big Issues: how "high school is a microcosm of our society," or why the students self-segregate into ethnic cliques. He's at his best when he focuses on the kids themselves; then he writes with pleasant whimsy, following this "awkward assemblage of skin and bones, a mass of puzzle pieces that don't quite fit together" for whom "friendships are like amoebas, having no definite form."
There's no doubt that Stuyvesant is the melting pot at its most inspirational, but it's still a New York City public school, and some of its teachers are mediocre. It's the ultimate meritocracy undermined by the ultimate bureaucracy. Yet the students learn how to make it work. For example, though they're officially not permitted to choose their teachers, they know how to manipulate the system to get into Mr. Grossman's classes, and Mr. Polazzo's. Contending with irrational authority provides as much of a life skill as anything one can learn in class. And so does figuring out how to bootleg elevator keys.
Melvin Jules Bukiet is the author of seven books of fiction and editor of three anthologies. He teaches at Sarah Lawrence College.