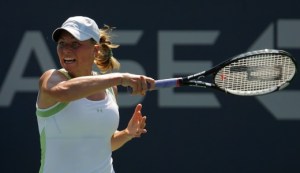 Serena Williams might have a surprising challenge later today when she plays Russian Vera Zvonareva at Ashe.
If you look at their head-to-head, Serena doesn't have her usually dominating advantage. Zvonareva beat Serena 6-2, 6-3 in Cincinnati last year and challenged her to three sets before losing in Los Angeles in 2005.
Also, Serena has said she isn't happy with her game right now, after playing for the first time since early July.
"I haven't played my best tennis at all in the first two rounds," she said. "I'm glad to have gotten through them, but I don't feel like I've been playing great."