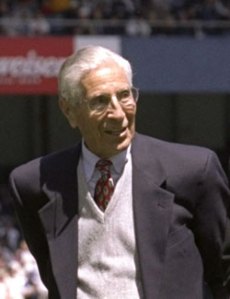 "Scooter always tried to take me over the edge and, unfortunately, I'd always go over the edge with him," said Fran Healy by phone on Aug. 14.
In the 1970's, Phil Rizzuto, known as the Scooter, was on the radio calling a game with Mr. Healy, a retired Yankees catcher. Mr. Healy remembered a story Rizzuto told while they were on the air in Baltimore.
"Well, I'm in the Amish country in Pennsylvania today," he remembered Rizzuto saying. "I stopped a car and I went up to this woman and said, 'I'd like to have intercourse.' Then the woman slapped me across the face! I said, 'No, Wait! I just want to know where Intercourse, Pennyslvania is.'"
He paused.
"Fran, do you know the town next to Intercourse?"
"What is it?" Mr. Healy asked.
"Blue Ball, Pennsylvania."
All the while, a baseball game was being played in the background. Rizzuto, the Hall of Fame Yankees shortstop and team broadcaster for four decades died on Tuesday, August 14, at the age of 89.
Peter Golenbock, the author of Dynasty: The New York Yankees 1949-1964, remembered his favorite Scooter story. Again, it featured Rizzuto unspooling a rather lengthy anecdote that detailed a drive home from a game during which he had a conversation with the Statue of Liberty.
"It's poignant on the one hand and hilarious on the other," Mr. Golenbock said.
But that was Rizzuto: bits of batty genius. Every time he brought up a cannoli, or a huckleberry, or a birthday wish to an 80-year-old grandma in Queens, Rizzuto wasn't so much breaking the rules of baseball broadcasting as much as he was moving them forward. He was one of the first jocks to move into the broadcast booth, and his success changed the rules of the business permanently.
"He was not only an entertaining broadcaster, he was a professional broadcaster," said Mr. Healy. "He was able to pull it off."
In the 1980's, Mr. Healy and Rizzuto were calling a game on SportsChannel from Yankees Stadium and there was a rain delay.
"We kept it in the booth and I started talking about how none of the players know how to bunt," said Mr. Healy. (Mr. Rizzuto was a masterful bunter when he was a player.) "So I told him, 'You never go on the field, you don't go down to Spring Training, why don't you go down right now and teach these guys how do you bunt?' Then he stands up, ha-ha, and he shows you how to bunt with a pencil in his hand. And then we started insulting each other, all on camera. Ha-ha."
Sal Marciano, a New York sports anchor for 41 years who currently works for WPIX, recalled Rizzuto talking about one of his favorite subjects: his wife, Cora.
"I was driving on the West Side Highway once and there was a game in Oakland," Mr. Marciano said. "Phil said, 'I took my wife on the West Coast and we're staying in this hotel. The problem with these hotel rooms on the West Coast is that they're all round, so it's gonna be tough to corner her tonight.' I laughed so hard I had to pull over."
For a number of years, Rizzuto was paired in the broadcast booth, brilliantly, with Bill White, a former All-Star and future president of the National League who played the role of Andy Griffith to Mr. Rizzuto's Don Knotts.
"Sometimes Phil would just start talking and it sounded like it was going to go in a direction no one wanted him to go in," said Marty Appel, a former executive producer on WPIX and press representative for the Yankees. "White was the guardian and sometimes he would squeeze Rizzuto's wrists so hard that it almost stopped the circulation until Phil would change the subject."